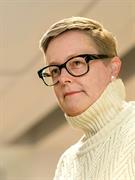 Pamela McNally
NKBA VP of Market Place
National Kitchen & Bath Association (NKBA)
Pamela McNally is Vice President, Marketplace for the National Kitchen & Bath Association. Prior to joining the NKBA in June 2020, she was Vice President of Digital for SANDOW, and Executive Vice President of Client Strategy/Solutions for Interior Design, a SANDOW brand.
Pamela oversaw digital initiatives for SANDOW's portfolio and worked with the company's top clients to create custom interactive programs with a focus on mobile and social engagement. She also spoke extensively on digital and future trends, and was a featured speaker at NeoCon, High Point Market, Design Chicago, InterACT, DCOTA, IDS, and was invited to speak at annual meetings and conferences put on by top companies such as Haworth Inc., Gensler and HOK.
Before joining SANDOW, Pamela was Vice President of Digital and Editorial for Niche Media, a publisher of regional magazines in top U.S. cities. Before that, she was Editorial Director of Custom Media at Hachette Filipacchi where she oversaw the development of publications for brands such as Mercedes-Benz, Cadillac, Aveda, Avon and AOL.
Previously, she had held editorial positions at Fairchild Publications where she started her career.