Explore Luxury at KBIS
North Hall | N177
The Luxury Lounge, sponsored by Homethreads
The Luxury Lounge, sponsored by Homethreads, will be a place for the architecture and design community, design media, influencers, and high-end brands to explore luxury in the kitchen and bath. Located in the North Hall, the Lounge will provide an inviting oasis for conversation and host programming that explores the multifaceted meaning of "luxury"—from the concept of quiet or discreet luxury to the application of sustainability and technology in the ultra high net worth market.
Each day at the Luxury Lounge, you will experience a range of fireside chat style sessions in a relaxed and comfortable environment. Each talk will involve designers, experts and influencers who have successfully navigated the world of "luxury" to weigh in on what luxury means today and where it's headed tomorrow.
Created for professionals looking to sharpen their understanding of luxury design, this space welcomes veteran and new designers alike. Join us at the Luxury Lounge to learn the latest trends and insider tips directly from leaders in the luxury design space.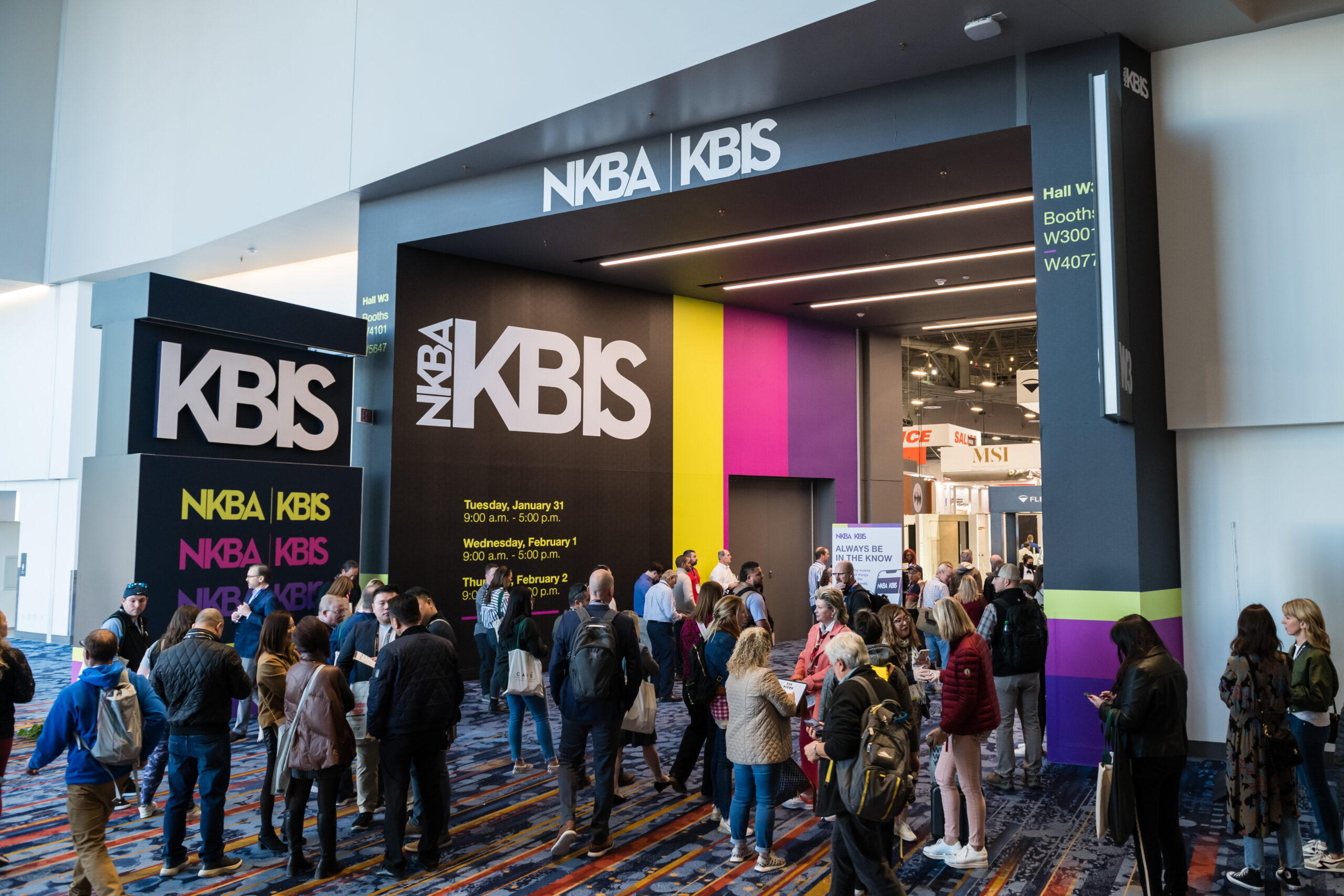 The Luxury Lounge, sponsored by Homethreads
KBIS continues to grow with the industry, and the newest addition of the Luxury Lounge at KBIS 2024 caters to the rise in kitchen and bath luxury design. Available exclusively to KBIS attendees, the Luxury Lounge provides an in-depth experience into the luxury design space, giving you key takeaways to use in your own business.
"It's exciting to explore new avenues for KBIS 2024. With the Luxury Lounge, our exhibitors and attendees will have a new experience learning about and exploring what 'luxury' means to them with programming. It will be a must-see on the KBIS floor."
See These Sessions, Only at the Luxury Lounge
TRANSLATING EUROPEAN DESIGN TRENDS TO U.S. MARKET
Whether it's Milan or Paris, our European counterparts are known for their undeniable style. This panel explores the highend and fashion-forward trends that are happening across the Atlantic, and those of which that we're starting to see emerge stateside.
DISCREET LUXURY
This discussion explores the intersection of high-end design and innovative technology, and how that can yield luxury.
"Discreet luxury" can refer to tech-forward products that elevate the interior design or user experience in highimpact ways – particularly in ways that are integrated, hidden, or intuitive. For example, there's this idea that a space is luxurious if its technology works without you having to think too much about it. Features work "at the touch of a button" or "from the ease of your phone" or even automatically without any user prompt at all.
THE LUXE BATH
The bath is now a lifestyle space. According to the NKBA's 2023 Bath Trend Report, the shift is more of a revolution than an evolution. Major advancements in chromotherapy and hydrotherapy; designs with new amenities like beverage stations and separate rooms for toilets; and lifestyle changes like the rise of "home spa parties" have contributed to this exciting trend
BRINGING LUXURY OUTDOORS
Outdoor kitchens have risen in popularity, but what are the hallmarks of today's luxurious outdoor entertaining spaces? How does one create a totally seamless indoor / outdoor experience? What is the ideal ambiance?
With a focus on design and experience, this panel discussion examines how to elevate today's outdoor kitchen & entertaining spaces through the lens of luxury lifestyle.
QUIET LUXURY IN THE K&B
There's been significant media coverage and social buzz about "Quiet Luxury." How does this apply to today's luxury residential K&B? This panel discussion will explore the importance of bespoke design, customized components, materiality, artisan-made items, and more. Designers will also comment on approaches to aesthetics, and the beauty of subtle statements and quality craftsmanship.
LUXE DESIGN WITHOUT COMPROMISING SUSTAINABILITY
This panel explores how to achieve the balance of luxurious design that's also super sustainable. While some may consider these competing forces (e.g. the idea of a luxurious shower requiring significant water consumption, or personal preferences for appliances that utilize gas flames vs. induction), today's brands are achieving beautiful, high-end K&B products that are also earth-friendly.
SPLURGE OR SAVE?
For many designers – even those with luxury projects – it's important to manage the budget of the project. This panel explores designers' tips on the luxury must-haves vs. where you can streamline. Whether it's personalized & customized elements, artisanal designs, architectural features, building materials, art, decor, technology, sustainability, this panel will examine the many aspects that designers would either "splurge on" or "save on."
DESIGNING FOR HIGH-END VACATION RENTALS
Designers are being tapped not only for primary residences, but also for vacation rentals. This panel explores design trends and considerations for the luxe vacation rental, from the swoon-worthy beach house to a majestic ski lodge. Designers will share their approaches to these types of projects, tying in regional design trends and affluent markets like the Hamptons, Nantucket, Palm Beach, and Aspen.
The Luxury Lounge Schedule at KBIS 2024
Day 1: February 27
Translating European Design Trends to the U.S. Market
Day 3: February 29
Luxe Design without Compromising Sustainability
Not registered for KBIS?
Don't miss the largest annual gathering of kitchen and bath design professionals in North America. Together, we set the course for our industry. Trends are established. Products are launched. People are discovered. And businesses are fueled!
KBIS is the place where the global residential design community meets in-person and for the year ahead. Join us February 27-29, 2024 in Las Vegas.