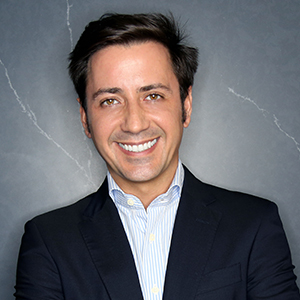 Eduardo Cosentino has established a substantial career with the Cosentino Group, the family-owned global leader in the production of innovative surfaces for architecture and design. Starting as a high school intern, Eduardo has worked from the ground up, with roles in multiple divisions from workshop and commercial operations, to commercial sales and senior management roles at both the regional and international level.
Since 2005 Eduardo holds the post of Global Corporate Sales EVP, where he oversees Cosentino Group's sales efforts globally and utilizes his multi-cultural design and sales experience to influence the company's product design and R&D teams.
In addition to his global sales responsibility, in the year 2010 Eduardo was named CEO of Cosentino North America, where he has overseen the company's growth in the US market.
Motivated by complex challenges and driven to develop the talents of his colleagues, Eduardo is known for his boundless energy, intuition, creativity and entrepreneurial spirit. He splits his time between the company's North American Headquarters in Houston and the Global Headquarters in Spain.
Eduardo is also member of Cosentino's Steering Committee, Executive Committee and Company Board. Since 2002 he has been VP of the Andalusian Marble Association.