Compact induction cooktop provides alternative to gas cooktops in small spaces
LOS ANGELES – EMPAVA, designer and manufacturer of kitchen and bath products, introduces its new 12-inch Drop-in Induction Cooktop for tiny homes and compact spaces, including RVs and boats.
"We've designed our 12-inch Portable Induction Cooktop as a drop-in option for those smaller, compact spaces such as in tiny homes, RVs and even boats—especially as we're seeing a increased need for alternatives to gas cooktops," said Ricky Cheng, President of EMPAVA.
KEY FEATURES OF THE 12-INCH DROP-IN INDUCTION COOKTOP:
Perfect for current and prospective "tiny home" owners that are looking for product quality despite space constraints, the EMPAVA IDC12 allows users to cook a variety of mouth-watering meals. The compact nature of this efficient 12-inch induction cooktop allows it to be a great option for RVs and boats as well.
Includes nine power level settings from 100W up to a total of 1800W power-sharing, with accurate and easy temperature changes at the touch of a button. Boil, stew, fry, stir fry, and switch from one mode to another as needed, making cooking easy and enjoyable.
As a safety feature, childproof locks are featured on all EMPAVA induction cooktops and help prevent children from accidentally turning things on or changing settings.
For more information about the 12-inch Portable Induction Cooktop, please visit EMPAVA.com.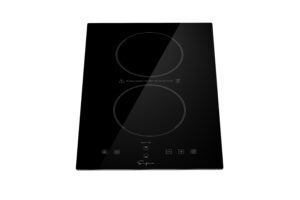 About EMPAVA
EMPAVA, designer and manufacturer of kitchen and bath products, offers more choices and more ways to purchase sleek, elegant and affordable kitchen and bath products online. From refined, high-performance ranges and powerful range hoods, gas ranges, cooktops and ovens, to stylish freestanding and whirlpool air bathtubs, EMPAVA creates unique and elegantly designed kitchen and bath products at less than premium pricing. For more information about EMPAVA and its full suite of kitchen and bath products, visit https://EMPAVA.com/.