Why Should You Exhibit at KBIS 2024?
The Kitchen & Bath Industry Trade Show (KBIS) is the largest North American event for kitchen and bath design professionals. KBIS, in conjunction with the National Kitchen & Bath Association (NKBA), is an inspiring, interactive platform that showcases the latest industry products, trends and technologies from over 600 exhibitors.
Don't miss out on connecting with an exclusive and powerful group of residential design and construction professionals in Las Vegas on February 27-February 29, 2024.
2022 State of the Industry
Those who remodel kitchens and baths in homes across the nation enjoyed a solid first quarter and are on track to a strong full year despite buffeting headwinds, according to new data.  The National Kitchen & Bath Association (NKBA) has released its Kitchen & Bath Market Index for the first quarter of 2022, which showed year-over-year growth of 12.6 percent.  "Despite a number of ongoing economic hardships, from material shortages to higher labor costs, we're excited to see our industry continue to grow and be optimistic about the future," said Bill Darcy, the organization's CEO.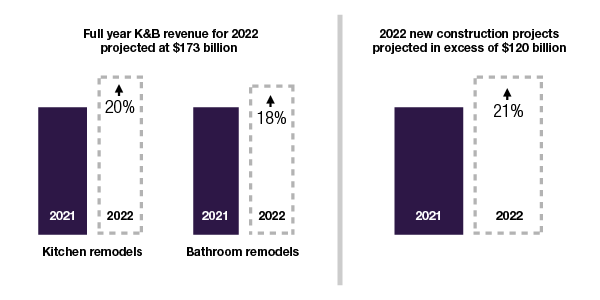 WHY KBIS?
KBIS offers the premier platform to engage the residential design & construction community. Network with qualified buyers. Launch new products. Be a thought leader. Gain media exposure. Generate new leads.
30,000+
Including IBS crossover, there were over 30,000+ qualifed buyers in attendance at KBIS 2022.
88%
 88% of attendees found new kitchen and bath products at KBIS 2022.
78%
78% of attendees met their objectives when attending KBIS 2022.
KBIS is a spectacular event and you should defnitely attend to grown your business, learn about trends, and see the latest and greatest as it relations to business of design and design trends.
Corey Davey, Owner/Partner
Curate Studios, LLC
If you are in the kitchen and bath industry, this show is a must!  It's the best way to explore new products/trends and building vendor relationships, as well as learn about each company.
Elizabeth Zach, Designer
D.A. Home Improvement
What a terrific way to explore new and inspiring products for industry professionals at all levels.  The bonus this year was seeing people live and in living color rather than a monitor. Thank you for continuing to provide this valuable event for our industry.
Geneess Plessas, Owner
Geneess Plessas Designs
Position yourself with the industry leader.
Join the NKBA today and reap the many benefits – like discounted booth rates!