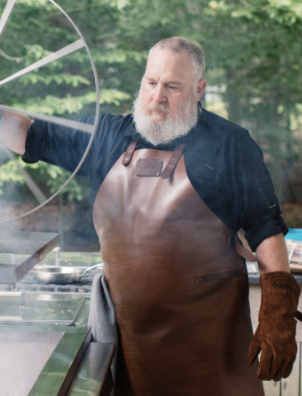 Russ Faulk
Chief Designer, Head of Product
Kalamazoo Outdoor Gourmet
Russ Faulk is the Chief Designer and Head of Product for Kalamazoo Outdoor Gourmet, the leading manufacturer of luxury outdoor kitchen appliances and cabinetry. He has over 20 years of experience in product design and has designed the brand's most recognized products including the Kalamazoo Gaucho Grill, Artisan Fire Pizza Oven and the new Shokunin Kamado Grill.
Russ is also the brand's resident grill master and an accomplished cookbook author. His most recent cookbook, Food + Fire was published in 2019 and features more than 170 of his tried and true recipes dedicated to the power, passion, and flavor of live fire cooking.
Outside the kitchen, Russ is an accomplished sports kite designer – who has been honored for his contributions in the aerodynamics of kites by the National Air and Space Museum at the Smithsonian – an international sports kite flying competitor and a leader of the sport's world federation. He is a graduate of the Fine Arts College of Washington University in St. Louis.