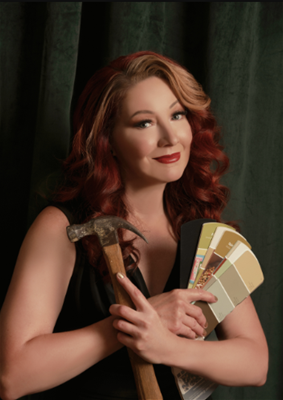 Leslie Hart-Davidson is a nationally recognized professional interior designer, author, and owner of HDD Studios in Michigan. Leslie holds a B.A. in interior design and has nearly two decades of industry experience, but credits her family for the desire to enter the world of design. The Hart family practiced real estate flipping while she was a child, so her calling for home improvement came early.
Leslie lives and breathes interior design not only in her successful design business, but also through monthly live tv segments on WZZM's My West Michigan. She has written two home improvement books full of snark and great content: Remodeling Your House without Killing Your Spouse in 2014 and It's Not Your Room, it's You in 2016. Her next book is a combination kitchen design/cookbook titled Food is Love, due out late 2020.
The design philosophy Leslie adopted when she started her business in 2001 is straightforward: design is a democracy, not a dictatorship. This guiding principal helps audience members and clients better understand design language and the psychology behind how they live in their homes. Her innovative seminars offered at regional Home Shows include "Thing or Not a Thing: The Best and Worst of Today's Design Trends," "What Your Contractor Wished You Knew" and "Leveling up From Live, Laugh, Love." Leslie has twice presented successfully as a speaker for NKBA Voices from the Industry.
When she's not on stage or on camera, you can find Leslie happily mentoring her Michigan State University interns. Every semester for the past 13 years running, students from MSU's nationally ranked design program learn valuable workplace skills to take into the design world after they graduate, often taking their own interns or readily helping the next generation of HDD Studios students to continue the cycle of mentoring.