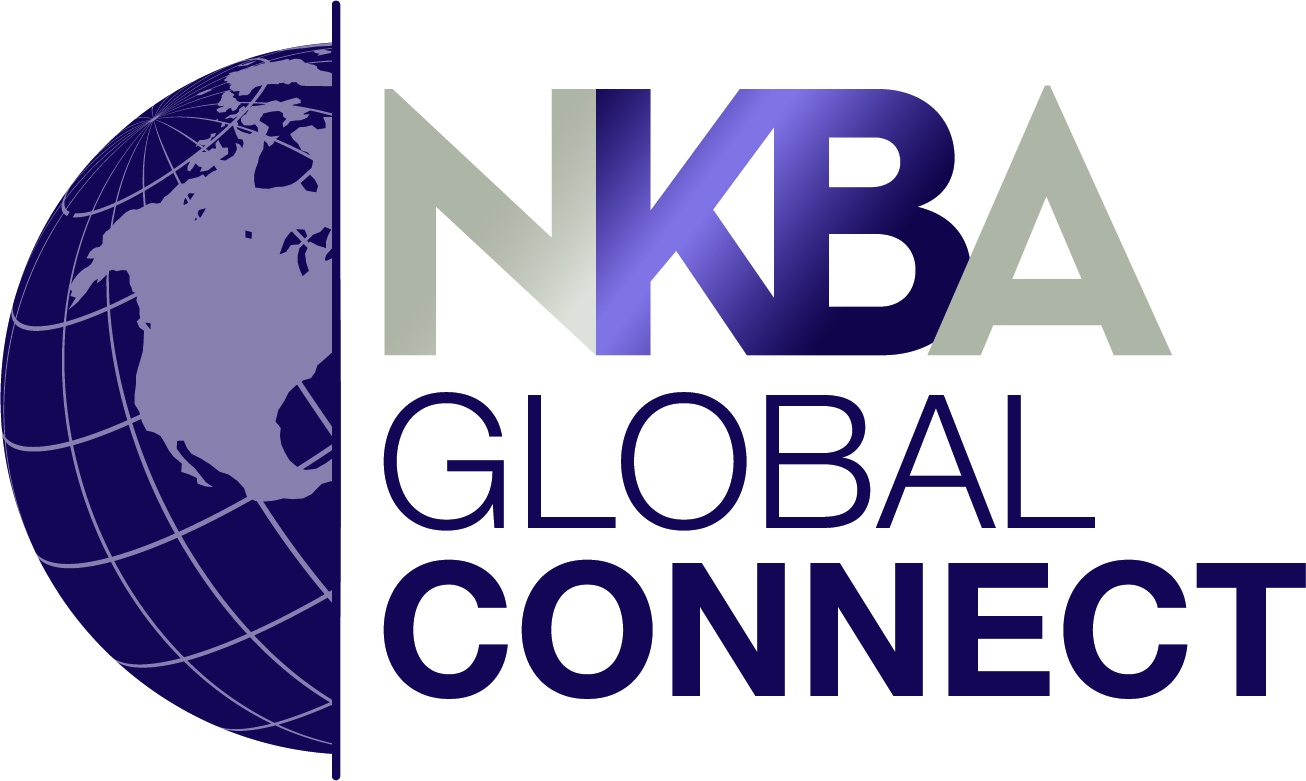 FOR IMMEDIATE RELEASE
The National Kitchen & Bath Association (NKBA) Announces NKBA Global Connect European Kitchen + Bath Showcase at KBIS 2021
Bringing Newest, Coolest, Smartest European Products and Trends Forward

HACKETTSTOWN, NJ — (January 14, 2021) — The National Kitchen & Bath Association (NKBA), the North American authority on all things residential kitchen and bath, announces the NKBA Global Connect European Kitchen+Bath Showcase, being hosted at KBIS Virtual on February 10 and 11, 2021. The multi-faceted series of presentations, discussions and product introductions will be featured in the all new NKBA Global Connect Pavilion.
Due to travel restrictions and the cancellation of many European fairs, events and shows, the NKBA is collaborating with NKBA Global Connect Alliance Partners to bring the newest, smartest and coolest products and design directions to its first NKBA European K+B Showcase.
"We are so pleased to introduce the newest component of our NKBA Global Connect program," said Suzie Williford, EVP and Chief Strategy Officer, NKBA. "Our NKBA Global Connect European Kitchen+Bath Showcase will give all of us an opportunity to experience the cool innovation happening in other parts of the world. Not being able to attend shows and events, internationally, has been difficult for all of us. We're excited to fill some of the gaps with this new program! We look forward to having the entire industry join us."
Kicking Off with Gudy Herder
International trend tracker and designer, Gudy Herder will present The Four Pillars Of the Caring Economy For 2021. In this session, Gudy will unpack four characteristics of the emerging Care Economy and equip audiences with keys to better understand and engage with clients who are not interested in mere transaction-based communication anymore.
Gudy Herder lectures at international design events on interior design & lifestyle trends. She weaves socio-cultural references and underlying patterns with color, materials and new forms – all culminating in a deep dive into insights around how we want to live.
Introducing Global Design Bites
Building on the KBIS Design Bites concept, Global Design Bites brings a series of rapid-fire, 7-minute presentations sharing the newest, smartest and most inspired products from International brands. Brands including Ballerina-Kuechen, SCHOTT AG, JWICO and more- will share hot new innovations in kitchen design and technology.
Getting Behind the Brand
NKBA CEO Bill Darcy will lead 10-minute Q&A-style conversations with two leading European brand CEO's –Eduardo Cosentino, CEO Cosentino North America and Mikael Akerberg, Chairman and CEO nobilia North America. The discussions will focus on brand vision, company history, points of difference, reason for being — essentially their brand story. These behind- the- scenes stories will reveal personal insights not commonly known or shared.
The Hottest European Design Trends
Moderated by Ingrid Abramovitch, Executive Editor, Elle Decor, a panel of international design trend trackers will discuss global residential influences. Participants include trendwatcher and interior designer Iris Havekes, founder C-More Interior Design, Justine Fox, co-founder Calzada Fox color consultancy, and Phil Pond, Founder of Scarlet Opus, lifestyle trend agency, will reveal the most exciting European trends for 2021 – elaborating on finishes, textures, colors as well as styles and market influences.
BEST OF EUROPE: "Favorite Finds" Kitchen and Bath Edition
Join three leading design influencers from the UK, Italy and Germany for their reveal of "favorite finds" sourced from major European events in 2020. Learn about the newest innovative products and fresh design trends from the perspective of global trade professionals and design writers Elisabetta Rizzatto, Italian Bark; Stacey Szyperek, The Design Sheppard;
and Yvonne Zahn, Kuechen-Glueck.
All design and construction industry professionals are encouraged to attend. Register for KBIS here. Presenting brands and dates/times will be announced in late January 2021.
About NKBA Global Connect
The NKBA Global Connect goal is to expand visibility of the NKBA and the Association's premier trade show event — the Kitchen & Bath Industry Show (KBIS) — internationally with design professionals, brands, influencers and other industry constituents. The initiative is designed to facilitate discussion on conducting business and participating in trade development events in North America and, conversely, in Europe and beyond for North American brands looking to extend their global footprint.
For more information on NKBA Global Connect please contact globalconnect@nkba.org.
About the National Kitchen & Bath Association and the Kitchen & Bath Industry Show
The National Kitchen & Bath Association (NKBA) is the not-for-profit trade association that owns the Kitchen & Bath Industry Show® (KBIS), as part of Design & Construction Week® (DCW). With nearly 50,000 members in all segments of the kitchen and bath and design and remodeling industry, the NKBA has educated and led the industry since the association's founding in 1963. The NKBA envisions a world where everyone enjoys safe, beautiful and functional kitchen and bath spaces. The mission of the NKBA is to inspire, lead and empower the kitchen and bath industry through the creations of certifications, specialty badges, marketplaces and networks. For more information, visit www.NKBA.org or call 1-800-THE-NKBA (843-6522).
KBIS® and NKBA® are registered trademarks of the National Kitchen & Bath Association.
###
Media Contacts:
Julie McCrary
White Good
Veronika Miller
M2-Connect