FAIRFIELD, NJ – (Sept. 23, 2020) – The National Kitchen & Bath Association (NKBA), the North American authority on all things residential kitchen and bath, and Renovation Angel (RA), a 501(c)(3) non-profit and the nation's premier kitchen, bath and furniture recycler, are accepting nominations for the 2021 NKBA and Renovation Angel Luxury Kitchen Recycling Awards. Now in its second year, the awards recognize the astounding work done by design professionals nationwide who have made the commitment to be responsible renovators.
"Instead of a traditional kitchen demolition where nearly everything is destined for a landfill, these designers have made it part of their business model to encourage their clients to donate their existing kitchen to Renovation Angel," explained Steve Feldman, CEO of Renovation Angel. "Depending on the condition of the space, nearly every material and product from cabinets, appliances, decorative plumbing and surfaces is removed and then upcycled as part of a new kitchen project. It's a win-win situation all around."
The NKBA RA Luxury Kitchen Recycling Awards competition is free to enter and is open to all kitchen designers, architects, contractors, interior designers and other industry professionals. The requirements are simple. Industry professionals should visit https://renovationangel.com/awards/ and submit projects in which at least 50% of the existing materials were recycled or donated. Projects must have been completed between Jan. 1, 2018, and Nov. 20, 2020. All entry packets must be received by 11:59PM PST, Friday, Nov. 20, 2020.
Entry Categories
| | |
| --- | --- |
| Achievements in Luxury Recycling | Achievements in Repurposed Kitchen Design |
| 1. Most Valuable Kitchen Donated | 1. Small Kitchen Project (up to 250 sq. ft.) |
| 2. Best Ultra-Luxury Kitchen | 2. Medium Kitchen Project (251 – 750 sq. ft.) |
| 3. Most Upcycled Kitchens from a Firm | 3. Large Kitchen Project (751 sq. ft. and up) |
The 2021 winners will be announced live on the eve of KBIS 2021 on Feb. 8. KBIS runs Feb. 9 to 11.
Learn more about last year's Luxury Kitchen Recycling Award winners.
George Oliphant, star of NBC's Emmy award-winning show George to the Rescue, will once again serve as Master of Ceremonies and head judge. He is joined by a host of well-acclaimed luxury kitchen design professionals including award-winning kitchen designers Sarah Robertson, AKBD (owner of Studio Dearborn, Mamaroneck, NY), Shannon Ggem (owner of Shannon Ggem Design, Los Angeles), Alyson O'Hanlon, CKD (co-owner of Clive Christian Furniture NJ in Tenafly, NJ), and Dan Nolan (national trade manager of Miele USA).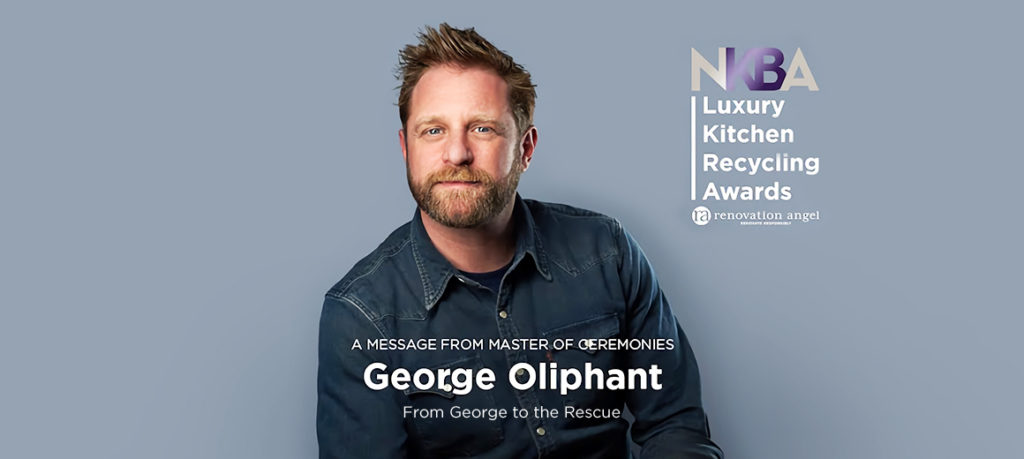 WATCH: George Oliphant Announces 2021 Luxury Kitchen Recycling Awards Open for Submissions
About the National Kitchen & Bath Association and the Kitchen & Bath Industry Show
The National Kitchen & Bath Association (NKBA) is the not-for-profit trade association that owns the Kitchen & Bath Industry Show® (KBIS), as part of Design & Construction Week® (DCW). With nearly 50,000 members across all segments of kitchen and bath design and remodeling, the NKBA has educated and led the industry since the association's founding in 1963. The NKBA envisions a world where everyone enjoys safe, beautiful and functional kitchen and bath spaces. The mission of the NKBA is to inspire, lead and empower the kitchen and bath industry through the creations of certifications, marketplaces and networks. For more information, visit NKBA.org or call 1-800-THE-NKBA (843-6522).
KBIS® and NKBA® are registered trademarks of the National Kitchen & Bath Association.
About Renovation Angel
Renovation Angel, a 501(c)(3) non-profit and the nation's premier kitchen, bath and furniture recycler, is on a mission to save the planet by keeping kitchens out of landfills. Since 2005, we've helped divert over 42 million pounds from landfills through our kitchen recycling mission. That's over 7,300 kitchens recycled equating to over $25 million in recycling jobs and $2.3 million to charity. #RenovateResponsibly
###