#KBTribeChat, one of the most respected kitchen and bath online forums, makes its fourth appearance at the Kitchen and Bath Industry Show (KBIS) by hosting a live, progressive chat on the KBIS show floor at 1PM on January 19, 2016. Typically hosted online each Wednesday, this chat will bring its participants together in-person and online for a first look at the latest and most innovative products at KBIS 2016. Headed up by Stacy Garcia, founder of #KBTribeChat, attendees will progress through the show floor with stops at three exhibitors including TOTO, Wellborn Cabinet, Inc. and Cambria USA: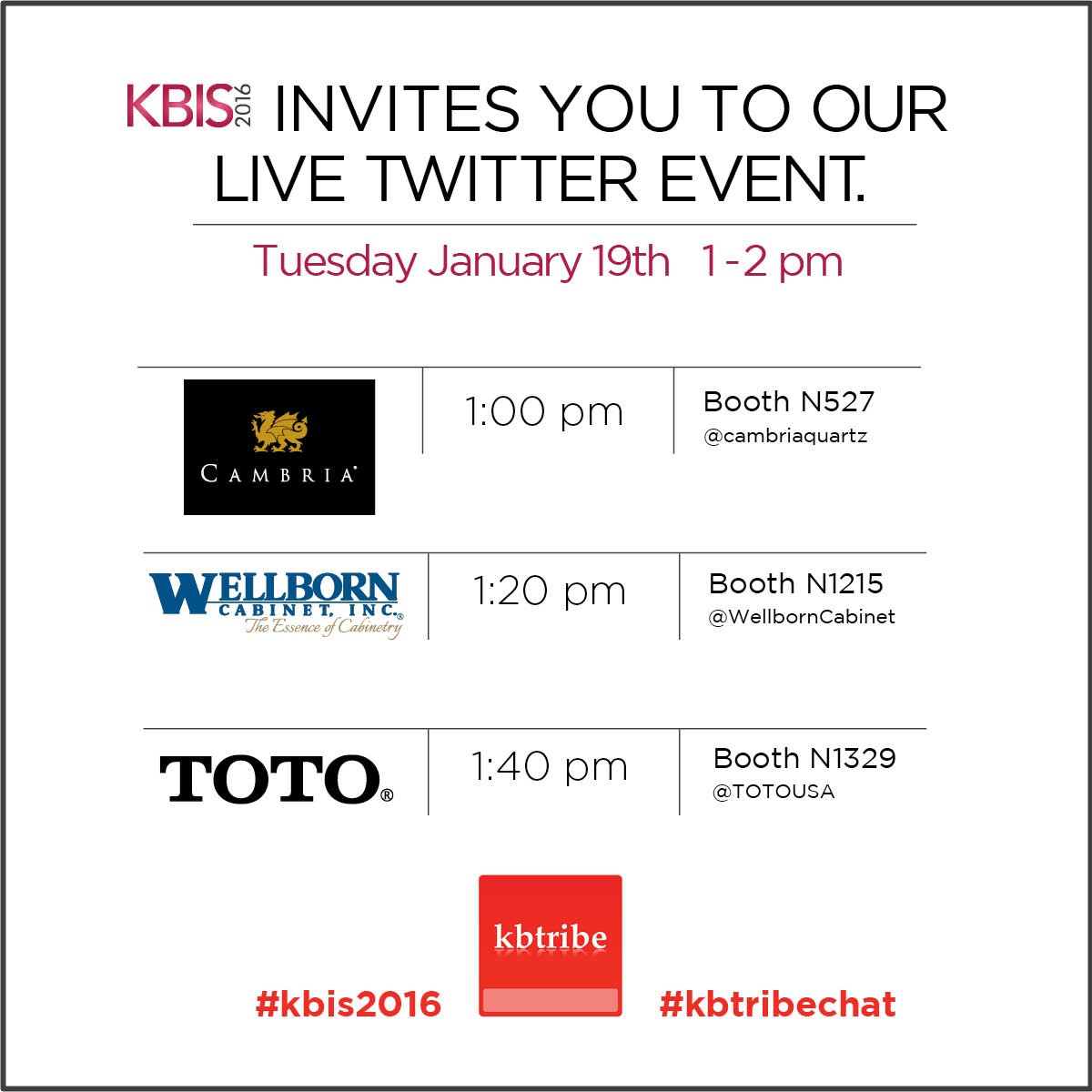 "This is the fourth year working together to host a live #KBTribeChat on the KBIS show floor, and it remains a highlight for everyone in the industry – including those unable to make it to Vegas," said Brian Pagel, VP Kitchen & Bath Group, Emerald Expositions. "We encourage everyone to join us, both at KBIS and beyond, to learn about the latest products and innovations debuting at KBIS."
During this year's chat, participants will explore Cambria's new Brittanicca and Ella marble lines. Wellborn Cabinet, Inc. will showcase color in its 2016 KBIS vignettes that illustrate an enhanced high end aesthetic of color and texture while remaining in a semi-custom cabinetry budget.
"Getting together with KBtribechat friends is one of my show highlights," said Stacy Garcia, KBtribechat founder. "Meeting in person strengthens the connections made online every week during our industry discussions. Sharing excitement over making discoveries together is a lot of fun and what our progressive event is all about!"
KBTribeChat brings kitchen and bath designers, interior designers, architects, bloggers, manufacturers, brands and industry insiders together every Wednesday from 2:00 – 3:00 pm EST on Twitter to discuss industry trends, innovative products and emerging design ideas. With more than 19,600 Twitter followers and weekly participants from every corner of the industry, KBIS is proud to collaborate with "the tribe" to provide a sneak peek into all things KBIS and what attendees can expect to see at this year's show.
To learn about the latest KBIS 2016 news and announcements, visit www.kbis.com or www.kbispressroom.com. Follow us on Facebook at https://www.facebook.com/KitchenBathIndustryShow and on Twitter at @KBIS2016.
About KBIS
The Kitchen & Bath Industry Show (KBIS) owned by the National Kitchen and Bath Association (NKBA) and produced by Emerald Expositions, is an inspiring, interactive platform that showcases the latest products, trends and technologies for the kitchen and bath industry. KBIS has been the premier event of the industry for over 50 years.
In 2013, the NKBA and National Association of Home Builders (NAHB) announced an agreement to co-locate the Kitchen & Bath Industry Show (KBIS) with the International Builders' Show (IBS) under the banner of Design and Construction Week® (DCW). In 2015, KBIS and IBS announced their co-location agreement was extended through 2020. The mega-event returns to Las Vegas, Jan. 19-21, 2016, where each show will operate in various halls at the Las Vegas Convention Center. The NKBA and The NAHB continue to produce separate educational programming and special events. One pass provides access to both shows, as well as to DCW partner events: the International Window Coverings Expo (IWCE) and The International Surface Event (TISE).
About Emerald Expositions
Emerald is a leading operator of large business-to-business tradeshows in the United States, producing more than 85 tradeshows and conference events per year connecting over 525,000 buyers and sellers across ten diversified end-markets, including general merchandise; sports; hospitality and retail design; jewelry, luxury, and antiques; e-commerce; photography;  decorated apparel;  building; healthcare; and military. Emerald is headquartered in San Juan Capistrano, Cal. The company's shows are typically the most prominent and important for exhibitors and attendees within their various industries. For more information on Emerald, please visit www.emeraldexpositions.com.
About the National Kitchen & Bath Association
The National Kitchen & Bath Association (NKBA) is the not-for-profit trade association that owns the KBIS®. With nearly 14,000 member companies representing tens of thousands of members in segments of the kitchen and bath industry, the NKBA has educated and led the kitchen and bath industry since the association's founding in 1963. The mission of the NKBA is to enhance member success and excellence, promote professionalism and ethical business practices, and provide leadership and direction for the kitchen and bath industry worldwide. For more information, visit NKBA.org or call 1-800-THE-NKBA (843-6522).