70,000 design and construction attendees visit 1,200 exhibitors covering 750,0000 net sq ft of exhibit space
Orlando, FL– (February 11, 2022) – The Kitchen & Bath Industry Show (KBIS), owned by the National Kitchen and Bath Association wrapped it's first in-person show in two years. The combined strengths of the NKBA and the National Association of Home Builders (NAHB), continuing their nine-year partnership to produce Design and Construction Week® (DCW), brought forth the first and one of the largest in-person events since the beginning of the pandemic. Together, the connected shows featured 1,200 exhibitors, occupying 750,000 net square feet of exhibit space. 70,000 energized attendees, representing all areas of the new construction and residential remodeling industries covered the Orange County Convention Center, February 8- 10, 2022.
The blended KBIS and International Builders' Show (IBS) floor experience continues to foster increased crossover traffic as custom builders, remodelers and project builders discover new product options with KBIS exhibitors and vice versa. This success is a testament to the dedication of the industry and the shared vision of these associations.
"There is no question our industry is alive and well," said Suzie Williford, executive vice president, industry relations and chief strategy officer, NKBA. "The numbers tell the story. We were so pleased to welcome 70,000 attendees, including guests from Germany, the UK, Spain, Italy and more. After two long years, it was pure joy to meet people in-person and get down to business with a little fun thrown in.  Design and Construction Week is a leading indicator of industry strength and clearly confirms the value of in-person events."  
KBIS, owned by the NKBA and produced by Emerald Expositions, is the largest North American trade show for the kitchen and bath industry. KBIS 2022 featured 375 exhibitors – 85 of whom were first-timers. The ratio of attendees to exhibitors was up 9% over 2020, the last and one of the strongest in-person KBIS events pre-pandemic. Of the KBIS attendees, 48% were brand new to the show.
"DCW surpassed all of our expectations," said Jason McGraw, group vice president and show director for KBIS. "We knew we had put everything in place to create a safe event.  We knew the exhibitors committed to the show would bring their "A" game.  We expected a strong showing of attendees. But when we beat our attendance plan, we knew we had a winner.  The business done at this show will drive the industry for the balance of 2022 and beyond. And we are poised for a super 2023 event with 83% of exhibit space already sold."
KBIS 2022 By the Numbers
70,000 Design & Construction Week Attendees
350 Exhibitors
85 new exhibitors
70+ NKBA Voices from the Industry conference education sessions
40+ panels and award presentations at the KBIS NeXT Stage, DMM Lounge, Global Connect Pavilion
Show Highlights
NKBA Design + Industry Awards
Kicking off KBIS 2022 nearly 800 industry leaders, design professionals, VIPs and media attended the highly anticipated NKBA Design + Industry Awards (see complete list of winners). Hosted by Suzie Williford and Bill Darcy, CEO, NKBA, presented 28 awards recognizing the industry professionals whose inspired work is deemed the best in the categories of kitchen and bath and showroom design. The awards were sponsored by 2020, The Home Depot and Beko Appliances.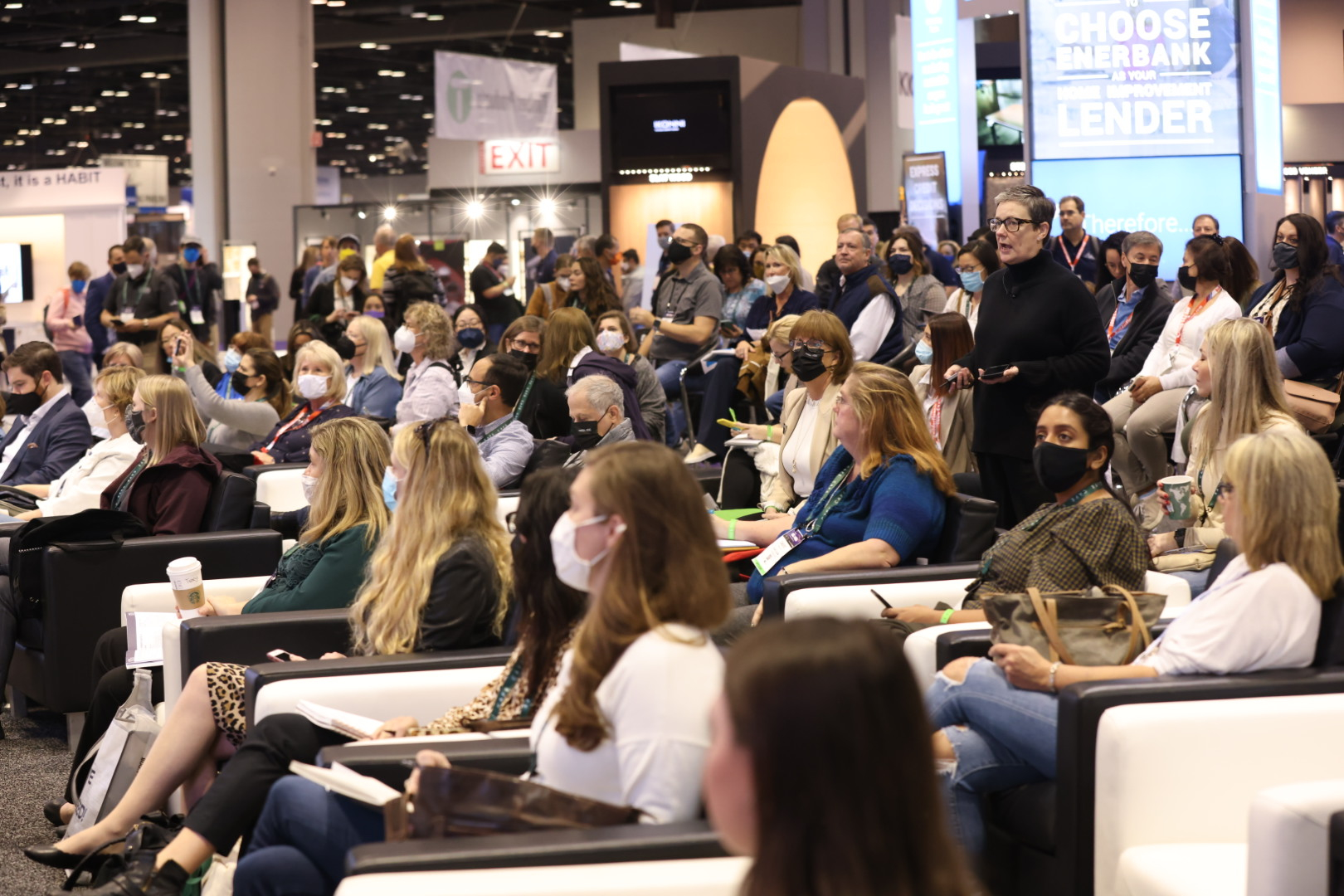 KBISNeXT Stage
The KBISNeXT Stage, featuring more than 25 panels, presentations and awards programs, involving 85+ industry leaders shared their insights on topics including: Exploring the Circular Economy, the Language of Luxury, Shift Forward – understanding the role of diversity and inclusion in your business, Social Showdown, Well Lit and Compound Interests: Designing for the Generational Divide.
The DesignBites program highlighted 9 innovative presentations culminating with the "Biggest Bite Award". Presenting brands included:
Moen
LG Electronics
Emtek
Beko US
Signature Kitchen Suite
Cooksy Corporation
Fotile America Inc.
Brondell
Belwith Keeler
Best of KBIS Awards
The Best of KBIS Awards recognize the top new exhibitor product innovations. Sponsored by Luxe Interiors & Design and hosted by editor in chief Pam Jaccarino, seven brands received awards with the top honor – Best in Show being award to the Miele Generation 7000 Artline 30" Combi Steam Oven.
The full list of winners included:
Best of KBIS – Bath Gold:
Kohler – Avoir Toilet
Best of KBIS – Bath Silver:
LG Airmada Drying Solutions – Airmada Drying System
Best of KBIS – Kitchen Gold:
Signature Kitchen Suite (SKS) – 48" French-Door Refrigerator with Convertible Drawer
Best of KBIS – Kitchen Silver:
John Michael Kitchens – CORE: Luxury Metal Cabinetry
Best of KBIS – Connected Home Technology:
PuriCare™ AeroTower™ Air Purifying Fan
Best of KBIS – Impact Award (Judge's Choice):
RainStick Shower – RainStick Shower
Best of KBIS – Best in Show:
Miele – Miele Generation 7000 Artline 30" Combi-Steam Oven
KBIS KickStarter Zone
One of the many new 2022 show activations, was the KickStarter Zone. Designed to highlight new- to -the industry, new -to -the- show products and brands, this "incubator area" introduced innovative new concepts to the market. All Kickstarter participants were visited by industry leaders to understand and evaluate their products. The KickStarter brands who most inspired our judges were:
First Place – RainStick Shower
Runner Up – Caregiver Smart Solutions, Inc.
People's Choice – Angel Guard Cookware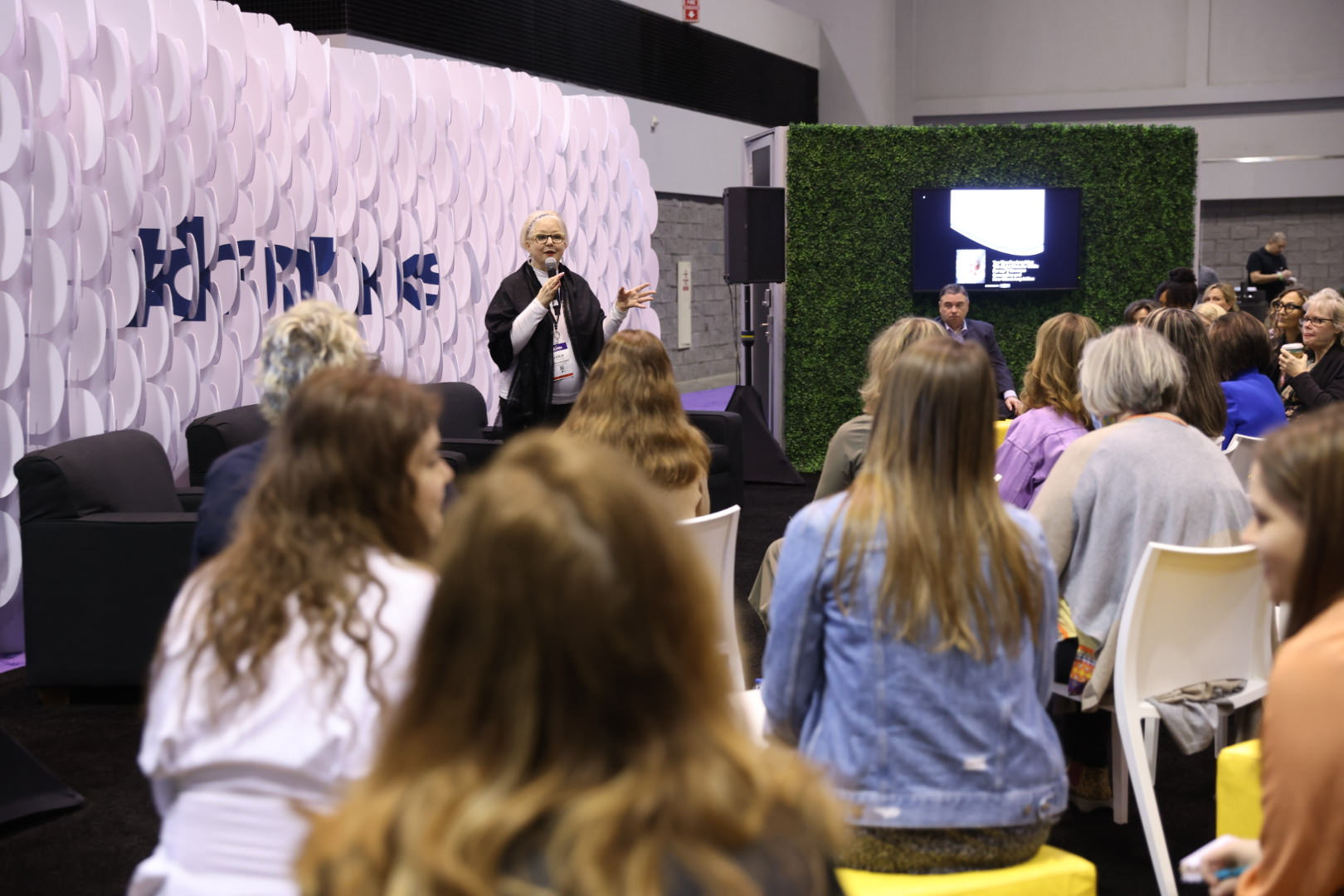 Design Milk X Modenus Talks Lounge
The dynamic partnership between digital powerhouse Design Milk founder Jaime Derringer and influencer connector Veronika Miller, CEO of Modenus Media, brought forward dialogue and discussion with all members of the kitchen and bath community. Thirteen programs exploring topics like "TikTok for Interior Design? You Better Believe It!" to digging into the "Metaverse and Non-Fungible-Tokens (NFT's)????? What On Earth are Those and Why Should You Care? kept the lounge buzzing daily.
NKBA Global Connect
The NKBA Global Connect Pavilion, delegation tours and first ever German Pavilion, welcomed a new collection of European and UK visitors. Two delegations of KBIS first time visitors experienced the event through curated tours, including the Design + Industry Awards, the New American Home, the KBIS NeXT Stage, talks at the Global Connect Pavilion and the extra-special BASH. The NKBA Global Connect Pavilion played host to roundtables and presentations, introducing international brands to the North American market. The first ever German Pavilion was launched in collaboration with the German Government, VDM and Koelnmesse. The pavilion is slated to grow to 12,000 square feet for the 2023 show.
KBIS 2023 and Design & Construction Week is Jan 31 – Feb 2, 2023, in Las Vegas, NV, at the Las Vegas Convention Center. Mark your calendars now.
For additional information about the show and to receive high-res show images, contact, Brittany Loeffler, White Good, bloeffler@whitegood.com.
About the National Kitchen & Bath Association and the Kitchen & Bath Industry Show
The National Kitchen & Bath Association (NKBA) is the not-for-profit trade association that owns the Kitchen & Bath Industry Show® (KBIS), as part of Design & Construction Week ® (DCW). With nearly 50,000 members in all segments of the kitchen and bath design and remodeling industry, the NKBA has educated and led the industry since the association's founding in 1963. The NKBA envisions a world where everyone enjoys safe, beautiful and functional kitchen and bath spaces. The mission of the NKBA is to inspire, lead and empower the kitchen and bath industry through the creation of certifications, specialty badges, marketplaces and networks. For more information, visit www.nkba.org or call 1-800-THE-NKBA (843-6522).
KBIS® and NKBA® are registered trademarks of the National Kitchen & Bath Association.
About Emerald
KBIS is produced by Emerald, a leader in building dynamic, market-driven business-to-business platforms that integrate live events with a broad array of industry insights, digital tools, and data focused solutions to create uniquely rich experiences. With over 140 events each year, the Emerald team are creators and connectors who are thoroughly immersed in the industries we serve and committed to supporting the communities in which we operate. For more information, visit http://www.emeraldx.com.
###
MEDIA CONTACT:
Brittany Loeffler
White Good
717-725-0291
bloeffler@whitegood.com