Five Design Pros to Select Best New
Kitchen and Bath Products
(Alpharetta, Ga.) – November 6, 2019 – The 2019 Kitchen & Bath
Industry Show (KBIS) today announced the five design
professionals who will judge the Best of KBIS Awards, the kitchen and bath
industry's most prestigious honors. The judges will choose the most innovative
new products making their debut at KBIS 2019, which returns to the Las Vegas
Convention Center, February 19 – 21.
The 2019 Best of KBIS Awards judges are: 
Laurie Haefele, Associate, AIA; founder, Haefele Design – Haefele specializes
in kitchen and bath design. Celebrated for her versatility, range of style,
attention to detail, and knowledge of the latest trends, her dedication to
excellence began with a bachelor's degree in Architecture from the Pratt
Institute and a master's degree in Architectural History and Theory from UCLA.
Aimee Inouye, AKBD, founder, AID+D, and NKBA Thirty under 30 Alum – Inouye
specializes in kitchen and bath design to create functional, beautiful, and
enduring design solutions. With clients in Hawaii as well as California,
she enjoys sharing mainland design trends and products with Hawaii residents to
help to bring the latest design innovations to her homeland.
Kelly Morisseau, CMKBD, CID, MSK Design Build – Morisseau is a writer and
residential interior designer. Author of Kelly's Kitchen Sync and Kelly's
Kitchen Savvy, she also has written for well-known trade and consumer
publications. When she's not designing creative new spaces or traveling to
conventions, Morriseau is exploring the world.
Nathan Reynolds, CAPS, CLIPP, interior designer, Insperiors, LLC, and NKBA
Thirty under 30 Alum– Reynolds is passionate about all things design and is distinguished by his ability
to incorporate timeless design principles with select product trends. His goal
with every client is to help them get inspired and have fun when designing
their dream space.
Aston Smith, kitchen designer, Bilotta
Kitchens – Smith's expertise in kitchen and home furnishings design reflects
her background in fine arts and design where she first discovered her interest
in the balance and function of form. She believes that blending her
client's intent with her own vision of a room's form and function is essential
to creating a truly beautiful working kitchen.
 "We are thrilled this
group of talented and respected designers accepted the challenge to select the
2019 Best of KBIS award winners. I can't wait to see which products they choose
as 'best of the best,'" said Suzie Williford, executive vice president of
industry relations and chief strategy officer for the National Kitchen &
Bath Association (NKBA), which owns KBIS.
New for the 2019, the Best of KBIS Awards judges will review
all product entries prior to the show and narrow those to 50 product finalists based
on product description, images and answers to entry questions. The judging
committee will visit each of the top 50 finalists at KBIS 2019 and winners will
be announced Wednesday, February 20 at 4:00 PM on the KBISNeXT Stage.
"We are proud of the prestige these awards have earned over
the years and thank this stellar group for sharing their time and expertise to
choose the Best of KBIS winners this February," said Brian Pagel, senior vice
president, Emerald Expositions.
The 2019 Best of KBIS Awards are sponsored by Meredith
Corporation, publisher, Beautiful
Kitchens & Baths, Traditional
Home and Dream Kitchens & Baths.
Join more than 31,000 attendees, 600 exhibitors and 400 media
expected to visit KBIS 2019. Register
early via kbis.com to take advantage of discounted registration
and hotel rates. For KBIS 2019 media registration, click here. Connect
with us via our social channels; Instagram @kbis_official, Twitter @KBIS,
Facebook www.facebook.com/KitchenBathIndustryShow
About KBIS
KBIS, in conjunction with the National Kitchen & Bath Association (NKBA),
is an inspiring, interactive platform that showcases the latest industry
products, trends and technologies. KBIS is the voice of the kitchen and bath
industry and has been for 50+ years.
Early in
2013, the National Kitchen & Bath Association (NKBA) and National
Association of Home Builders (NAHB) announced an agreement to co-locate the
Kitchen & Bath Industry Show (KBIS) with the International Builders' Show
(IBS) in Las Vegas, Nev. in February 2014 under the banner of Design and
Construction Week® and both organizations recently extended the
agreement through 2026. The mega-event returns to Las Vegas Feb. 19 – 21. NKBA
and NAHB will continue to produce separate educational programming and special
events though one pass provides access to both shows.
KBIS is
operated by Emerald Expositions, the largest operator of business-to-business
trade shows in the United States, with most of our shows dating back several
decades. We currently operate more than 50 trade shows, including 31 of the top
250 trade shows in the country as ranked by TSNN, as well as numerous
other events. Our events connect over 500,000 global attendees and exhibitors
and occupy more than 6.5 million NSF of exhibition space. We have been
recognized with many awards and accolades that reflect our industry leadership
as well as the importance of our shows to the exhibitors and attendees we
serve. More information about KBIS can be found at www.kbis.com.
About the National Kitchen & Bath
Association and the Kitchen & Bath Industry Show
The National
Kitchen & Bath Association (NKBA) is the not-for-profit trade association
that owns the Kitchen & Bath Industry Show® (KBIS), as part of Design and
Construction Week ® (DCW). With nearly 14,000 member companies representing
tens of thousands of members in all segments of the kitchen and bath industry,
the NKBA has educated and led the industry since the association's founding in
1963. The NKBA envisions a world where everyone enjoys safe, beautiful and
functional kitchen and bath spaces. The mission of the NKBA is to inspire, lead
and empower the kitchen and bath industry through the creations of certifications,
marketplaces and networks. For more information, visit www.NKBA.org or
call 1-800-THE-NKBA (843-6522). KBIS® and NKBA® are registered trademarks of
the National Kitchen & Bath Association.
About Meredith Corporation
Meredith has
been committed to service journalism for more than 115 years. Today, Meredith
uses multiple distribution platforms—including broadcast television, print,
digital, mobile, and video—to provide consumers with content they desire and to
deliver the messages of its advertising and marketing partners. Meredith's
National Media Group reaches 175 million unduplicated American consumers every
month, including 80 percent of U.S. millennial women. Meredith's Local Media
Group includes 17 television stations, which reach more than 11 percent of U.S.
households.
###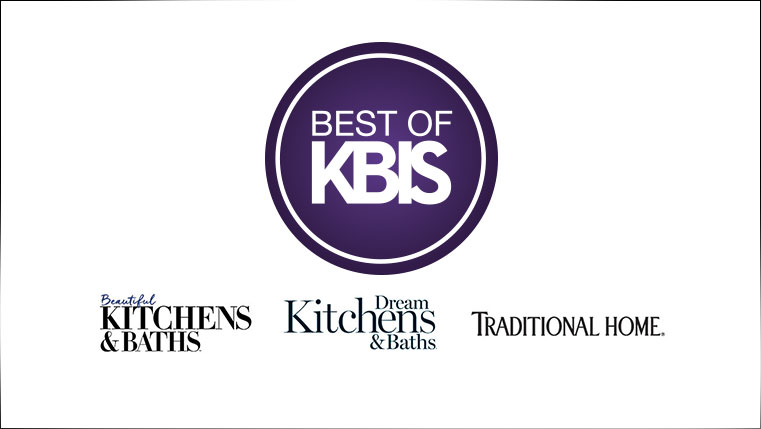 Media Contacts:
Andi Murphy
White Good
amurphy@whitegood.com
Jocelyn Hutt
White Good
jhutt@whitegood.com