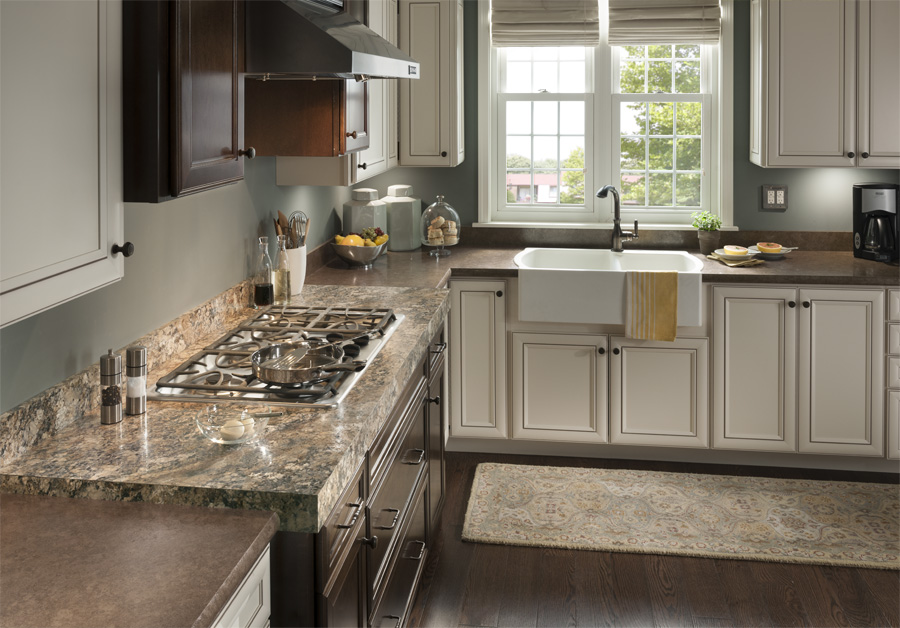 Wilsonart HD style, function and affordability offer a sustainable alternative to granite
Nature as artwork is the overall theme of six new Wilsonart® HD® High Definition® Laminate designs that the Wilsonart team will unveil at the Kitchen and Bath Industry Show 2013, Booth 3335.  Offering a sustainable alternative to natural stone that doesn't grow back once extracted from the earth, laminate is a beautiful and affordable choice for environmentally conscious consumers looking to create an eco-friendly kitchen. Celebrating the inherent beauty of natural stone, the new designs strikingly resemble the vibrant colors and large-scale flowing movement of exotic granite through enhanced realism delivered by state-of-the-art print technology and texture. The 2013 designs add additional drama to the décor of any household through daring graphics and patterns, transforming countertops into designer showhouse-worthy centerpieces.
"This year, we are putting more emphasis on consumers' desire to personalize their living spaces and highlight their individuality in harmony with Mother Nature," notes Jill Lock, senior product designer for Wilsonart. "As the social 'hub' of the home, modern kitchens need to perform as effortlessly as possible under various types of pressure. With our commitment to solutions for a sustainable future, our 2013 laminate collection represents a durable, affordable and eco-friendly alternative to using materials that don't take advantage of sustainable resources. Our Wilsonart HD High Definition print and texture technology offers a realism that makes it almost impossible to tell the difference between natural stone and laminate."
Three trends played center stage as inspiration for the natural stone look designs of the 2013 collection:

Nature as Artwork: With their flowing movements and veining, natural stones are beautiful, stunning works of art. More people today are seeking to recreate graphics and patterns found in nature indoors in an eco-friendly way for a relaxed, yet chic, atmosphere.

Enhanced Drama: Countertops are playing a more dominant role in today's kitchen, which continues to evolve as the heart and hub of many homes. Vivid colors and large-scaled shapes and forms as seen in natural stones bring tasteful drama to the kitchen and create a unique focal point to be proud of.

Variety for Life:  More people are building homes for life, often uniting multiple generations of a family under one roof. But even as we age in place, every generation has a desire for self-expression and individuality. A broad variety of affordable patterns and designs allow all configurations of family the opportunity to personalize their living spaces and create smart kitchens, whether they prefer a vintage feel or a more modern look.
All six designs of the 2013 Wilsonart HD collection, including Cosmos Granite, Golden Romano, Bianco Romano, Florence Gold, Summer Carnival and Winter Carnival can be paired with deeper wall paint colors or glossy backsplashes to make a statement in the kitchen and bathroom. Stained cabinets in rich chocolate or spice colors make for a more traditional appearance. "We offer that sweet spot between good value and stylish products of good quality consumers are looking for," said Lock.
Wilsonart has refined its design, performance and optical surface finishes to create the tones, color gradations, fissures and formations that give depth and dimension found in nature.  As a result, the Wilsonart HD collection combines 57 designs with three surface textures from gloss to matte (Mirage-35, Facet-45 and new honed Glaze-55), three decorative edge options and eight integrated sink configurations to offer consumers hundreds of coordinated looks.
Before the official unveiling of the six new designs at the Kitchen and Bath Industry Show 2013, see all the possibilities come together on the Wilsonart HD Visualizer at www.WilsonartHD.com.  Wilsonart and Wilsonart HD styles can be found at kitchen and bath dealers, home centers and local fabricators nationwide.