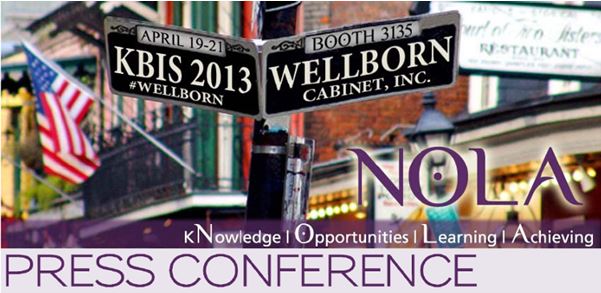 Wellborn Cabinet, Inc. Press Conference
Saturday, April 20, 2013
Booth #3135
8:30AM – Breakfast Available
9:00AM – Press Conference & Tour
Wellborn Cabinet, Inc. would like to personally invite the press to our newly redesigned booth for a Press Conference the morning of Saturday, April 20, 2013.
Breakfast will be available beginning at 8:30AM. The Press Conference presented by Angela Wellborn O'Neill, Director of Marketing & Advertising, will begin promptly at 9:00AM followed by a personal booth tour with Wellborn Designer, Karen Salyer.
RSVP to Brooke Herren at bherren@wellborn.com.
RECEIVE A $50 GIFT CARD & WIN A BRACELET BY MICHAEL KORS:
Just by attending, you will receive a $50 gift card*.
In addition, each attendee will be entered to win a bracelet by Michael Kors, courtesy of Wellborn Cabinet, Inc. The Winner of the prize will be randomly selected at the beginning of the Press Conference at 9:00AM.