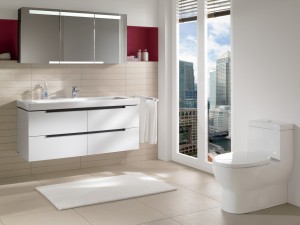 TOTO, the largest plumbing manufacturer in the world, and Villeroy & Boch, the leading European bathroom brand, announced today that their sales alliance is well under way. Since 2012, TOTO has been Master Distributor for all Villeroy & Boch bathroom products sold in the US and Canada, including toilets, decorative lavatories and washbasins, tubs, showers, accessories, vanities, and bathroom furniture. As Master Distributor, TOTO has assumed all sales, distribution, and after-sales support for all Villeroy & Boch
products, maintaining a large inventory in TOTO's distribution centers in the US.
To further the sales alliance, TOTO and Villeroy & Boch have begun developing a new product line specifically suited to the high-end showroom market in the US and Canada, drawn from Villeroy & Boch's extensive European catalogs.
"We are quite pleased with the sales alliance's progress thus far," said David Krakoff, President – Americas, Sales Division, TOTO USA. "We've developed a new network of distributors and elegant showrooms that span the entire North American continent in the US and Canada. Both TOTO and Villeroy & Boch are available through this new network, which is growing, and we expect it to continue to grow actively throughout 2013."
"We are glad our sales alliance has started very well: we've built a coast-to-coast distributor and showroom network that it is growing according to our plan," said Michael Swan, President of Americas, Bathroom and Wellness Division, Villeroy & Boch USA. "At KBIS 2013, we are presenting our latest point of sales concept for these showrooms as well as our new mirrored medicine cabinets, 'My View' and 'Perception,' a completely new product category for Villeroy & Boch in the US."
"We are happy to have assumed master distribution for Villeroy & Boch in the U.S. and Canada," said Jason Fitzsimmons, Vice-President – United States Sales Division, TOTO USA. "The dynamic and competitive nature of this industry drives high-end distributors to look for luxury product lines with which they can differentiate themselves from retail home centers."