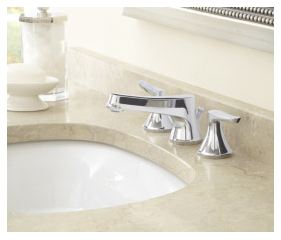 The soft, understated beauty of TOTO's new Wyeth Faucet Collection's high-efficiency lavatory faucets, tub fillers, and shower trim is characterized by its refined good looks. Harmonizing beautifully with a wide variety of homeowners' interiors, this budget-friendly collection complements traditional, transitional, and contemporary bath décors. This Universal Design product suite features ADA-compliant lever handles to facilitate ease of use across the age continuum without calling undue attention to this feature.
Embodying TOTO's People-First Innovation philosophy, which addresses design advances in both aesthetics and engineering, the Wyeth Faucet Collection offers superb performance, excellent ergonomics, precision manufacturing, and absolute reliability. This environmentally friendly, Watersense labeled, high-efficiency faucet consumes a mere 1.5 gallons per minute without sacrificing an ounce of performance. Design-savvy homeowners and design professionals will appreciate the real world benefits this refined faucet series offers when they receive savings on their water bills.
In addition to making a sophisticated statement in the home, the Wyeth Faucet Collection will add alluring design to bath environments in both hospitality and commercial settings. With its premium materials and high-quality construction, the new Wyeth Faucet Collection will ensure its owners worry-free performance for years to come.