Multiple baking modes, including European-style convection and air frying, enable a robust cooking experience
SAN FRANCISCO – Leading global kitchen appliance brand ROBAM introduces the 30-inch 7MG10 Dual Fuel Range, providing home chefs with a precise and efficient cooking experience every time. The five-burner gas range encompasses multiple burner levels ranging from 5,000 to 18,000 BTU, providing superior heat and precise temperature control for all cooking needs, from frying to simmering. The large capacity, 5.0 cu ft. European-style convection oven allows for timely preparation of large meals through evenly distributed heat and a wide range of temperature controls, from 80 to 550 degrees Fahrenheit.
The dual fuel range will be displayed for the first time at the Kitchen and Bath Industry Show (KBIS) in Las Vegas, Nevada from Jan. 31 to Feb. 2 in booth W3721, alongside ROBAM's collection of new next-generation appliances.
"With ROBAM appliances, the home chef doesn't have to compromise flavor for efficiency," said Elvis Chen, ROBAM Regional Director. "The 7MG10 Dual Fuel Range's large capacity oven enables home chefs to prepare multiple dishes at once without compromising flavor, and its multi-mode technology ensures they have many options when it comes to preparing their favorite meals."
For safety, the dual-fuel range is equipped with a smart child lock that prevents oven access while in use, as well as a flame failure device that cuts gas flow to the range if extinguished. Additionally, the oven door is manufactured with four layers of insulated glass and a front cooling system to ensure that heat is preserved within the oven cavity while keeping the exterior cool to the touch and avoiding accidental burns or heat damage to surrounding cabinetry and countertops.
Additional Features
High temperature-resistant brass cap burners that remain intact through high heat levels and allow for effortless cleanup
Multi-dimensional heating with baking tubes on top, back and bottom, as well as a rear-mounted fan
Six baking modes:

Bake (170-500 degrees Fahrenheit)
Broil (450-550 degrees Fahrenheit)
Warm (140-210 degrees Fahrenheit)
Proof (80-120 degrees Fahrenheit)
Air Fry (300-450 degrees Fahrenheit)
Convection (170-550 degrees Fahrenheit)

Internal food temperature probe to ensure precise results
High temperature self-cleaning at 806 degrees Fahrenheit
304 stainless-steel exterior with touchscreen controls
Blue porcelain interior that is acid, alkali and high-temperature resistant
To learn more about ROBAM and its product offerings, visit us.robamworld.com.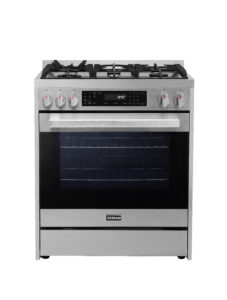 The 7MG10 Dual Fuel Range provides an efficient cooking experience through its large capacity 5.0 cu ft. European-style convection oven.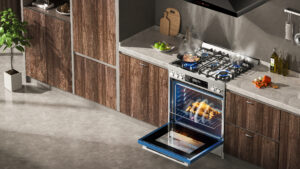 The 5-burner gas range provides superior heat through 4 different burner levels.
MEDIA CONTACTS
Brenda Forman / Chad Riley
robam@merlotmarketing.com
Merlot Marketing, Inc. 916-285-9835