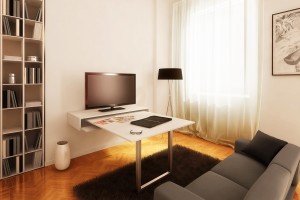 Richelieu, a leading North American importer, distributor and manufacturer of specialty hardware and complementary products, will exhibit at the KBIS 2013 (booth #2653) in New Orleans. Several new, exclusive and innovative products, which are perfectly in step with the latest trends and needs in kitchen and bath design, will be unveiled.
Maximizing small space functionalities without sacrificing style and function is a challenge that inspired Richelieu to create a line of concealed, extendable line of tables. Kitchens and other living spaces can be fitted with a Richelieu table which can be concealed & extended, in cabinets or as a standalone drawer when opened, cleverly deploys a fully functioning breakfast table or a dining table. A single solution can quickly transform areas to entertain guests, cook, and work or just have a coffee.
Richelieu remains an industry leader and top innovator in North America and is responding to market trends with unique functional products and cutting-edge designs. Richelieu is proud to offer its North American clients more than 60 distribution centers, revolutionary marketing and state-of-the-art technology.
Contact:
Veronique St-Cyr
Communications Manager
7900, Henri-Bourassa West
Montreal, QC, H4S 1V4
Tel: 514-832-4010 x5338
www.richelieu.com