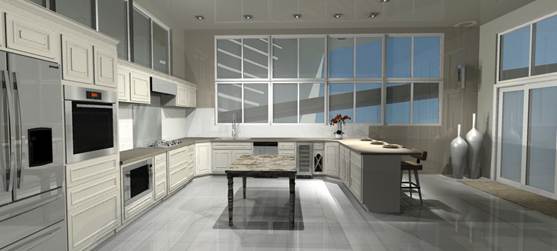 Promob Design and Metalsinos will be displaying their latest products at the Kitchen & Bath Industry Show (KBIS) April 19 – 21, in New Orleans. Exhibiting from the booth of the Orchestra Brasil project, an initiative by Sindmóveis, the Furniture Industry Association of Bento Gonçalves, Promob Design and Metalsinos will offer innovative products and services to support any interior design project. Orchestra Brasil's mission is to promote forward-thinking, sustainable designs and services created by Brazilian talent. Attendees can visit Booth #2015 at KBIS to learn more about Promob Design, Metalsinos and the Orchestra Brasil project.
"Orchestra Brasil is excited to be part of KBIS again this year, and the North American market is very important to us," said Catia Scarton, president of Sindmóveis. "American designers and architects are increasingly responding to our innovative designs and software solutions. In fact, over the past year, participating Orchestra Brasil companies have increased exports to North America by almost 49 percent. The economic recovery in the United States, which shows an increase in consumption, again places the market as a priority for us in 2013."
Brazilian company Promob Design specializes in the development of unique software solutions for virtual spaces. Promob Design will be available to discuss its new, easy-to-use rendering design software for interior designers with ultimate illumination and 3D realism, an excellent solution for 3D viewings of interior design layouts, including kitchens and baths. The software − the only one of its kind available in Brazil − also allows users to prepare technical documents and enhance design presentations with impressive realism in order to drive their upselling potential.
"Consumers are investing a lot of resources to create the perfect look for their kitchen or bath," said Scarton. "Promob's visualizer design software allows interior designers to virtually 'walk inside and open drawers' thus allow for immediate viewing of their client's home layout before making any purchase decisions for a design project."
Show attendees can stop by the Orchestra Brasil Booth #2015 to interact live with the Promob software, create their own designs, and sign up for a one-year free trial, exclusive only to the KBIS show.
Recently celebrating its 25th anniversary, Metalsinos will showcase in the Orchestra Brasil booth its new decorative hardware collection of handles and knobs for kitchen and bathroom cabinets and drawers. Dedicated to cutting edge design as well as materials research, Metalsinos offers the finest craftsmanship in a variety of combinations and finishes that follow the latest trends. In addition to kitchen and bath decorative hardware, Metalsinos manufactures other metal products for the furniture market.
"Decorative hardware is key to completing the look of your room, and Metalsinos' broad selection of handles has a unique touch of Brazilian zest that will enhance any kitchen or bath space," added Scarton.
About Orchestra Brasil by Sindmóveis
Created by Sindmóveis, the Furniture Industry Association of Bento Gonçalves, and supported by the Trade and Investment Promotion Agency (Apex-Basil), Orchestra Brasil encourages exports by the Brazilian suppliers for the furniture industry. Established in 2003, more than 90 companies comprise the Orchestra Brasil Project, including 25 furniture designers. Throughout 2012, the project enabled member companies to participate in the major woodworking and design shows. For more information, please visit https://www.sindmoveis.com.br/