Orlando, FL, February 11, 2022 – Neolith, the world's leader in the sintered stone industry, celebrates today the end of a magical week of encounters and in-person activities at KBIS 2022 in Orlando – North America's largest kitchen and bath show. With an estimated attendance of more than 80,000 people, Neolith used the event to launch its newest collection of 8 colors exclusively designed and thought of for the North American market, The New Classtone Collection. This new collection is the culmination of Neolith's unique ability to adapt to market changes and create region-specific collections that inspire and make of Neolith a love brand among local architects, designers and consumers.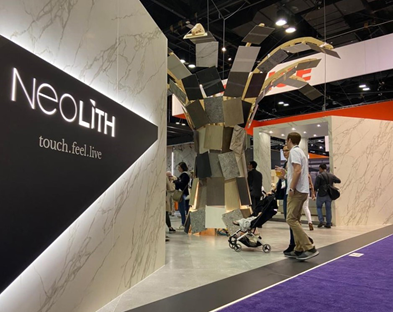 "KBIS was the perfect time and place to unveil The New Classtone Collection," says José Luis Ramón, Neolith's CEO, in town for the event. "I had the pleasure of being part of a memorable journey at KBIS, welcoming thousands of architects, designers and consumers who were inspired by our brand," he continues. "Unveiling our newest collection, innovations and new brand identity to our eager attendees was thrilling to witness, given the positive reaction from the media and A&D community," he adds. "It is further proof that our approach of listening closely to consumers is paramount for our continued success."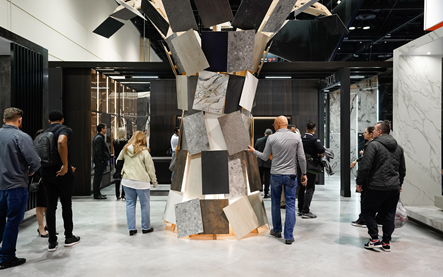 Neolith, the brand that came to give its best at KBIS, was awarded by KBIS' officials with a Best Booth Honorable Mention Award for being the brand that delivered an outstanding attendee experience, showcasing best innovation, creativity and thoughtful design. The awarded booth featured two state-of-the-art kitchens, a magnificent bathroom, an elegant conference room and other amenities including a major eye-catching palm tree application towering more than 13 feet tall displaying the brand´s versatile colors and finishes, all housed within a spectacular 2,400 square foot space. The booth was not just visually stunning, it was also the perfect environment for the brand to present its new consumer-driven global brand
platform, touch.feel.live, which proposes a journey from the most tangible and experiential to the most sensitive and evocative. A real declaration of principles that concisely and emotionally reflect Neolith´s purpose and personality.
In addition to its display booth, Neolith hosted gatherings for industry and media professionals including the hard hat media tour, a cocktail party on Feb. 8, entertained with an award-winning violinist and key industry influencers that accompanied the brand, along with a show-cooking lunch on Feb. 9 lead by Michelin star Chef Dean Allen Sheremet, who delighted and engaged with the crowds at the booth.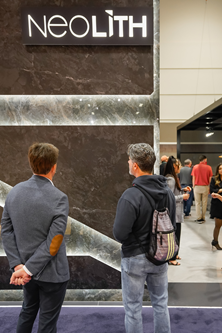 "It was truly an honor to meet so many end consumers, industry professionals and brand lovers from North America at the show," said James Amendola, Executive Vice President of North America at Neolith. "Hearing their feedback and listening to them first-hand is a gift which impulses us to keep on fueling their passion for our brand. 2022 is going to be another memorable year for us, after closing our best year so far, which will serve to make us better as we keep on inspiring the creation of unique spaces with Neolith."
Neolith's participation at KBIS follows on the heels of the company's record-breaking 2021 calendar year, during which it reported its best sales performance in the U.S. and Canadian markets since entering the continent.
About Neolith
Founded in 2009, Neolith is the leading global brand in sintered stone. A revolutionary and innovative architectural surface made from natural materials and with superior technical characteristics, Neolith is ideal for the most demanding interior and exterior building projects. Designed and manufactured to satisfy the most stringent needs in the worlds of architecture and interior design, Neolith prides itself in being the first carbon-neutral company of its industry and is renowned for its quality, versatility, durability, elegance and style as well as sustainability and practicality.
Discover more at www.neolith.com
Explore the North America Exclusive collection at https://usa.neolith.com/en/
MEDIA CONTACT: 
Tia Giannone
tia@torchiacom.com
514-999-1732