Miami, Florida (January 18, 2022) – nobilia, the world's largest manufacturer of European Kitchen Furniture, has introduced seven new and distinct collections for 2022. All are built on the latest directions driving modern design, including inspirations taken from nature, as well as an appreciation for intelligent storage solutions and smart features for a connected home.
Nature is in Style
The natural world is often identified as the ultimate source for design inspiration, whether in textures, color palettes, or materials. New for 2022 is the LASER 414 Collection, featuring a Volcanic Grey front which adds a tone that's both natural and warm. Incidentally, the new hue makes a perfect pairing with any wood- or concrete look. That mixing of materials to create a design with layers remains a constant for next year.
Also, nobilia adds to its range of wood looks with NATURA. The new collection follows the principles of one of the most important drivers of 20th-century modern design philosophy – the Bauhaus. It is the perfect combination of efficiency, streamlined design, and integration, along with benefits like light- and water-resistance, as well as impact- and shock resistance. Its anti-fingerprint effect provides a design that invites touch.
Blues and Greens
Shades of blues and greens are on the rise. Often paired with soft neutrals and muted earth tones, these new shades of green and blue invoke natural influences and bring a sense of calm, clear energy into homes. The Mineral Green color found in EASYTOUCH964, is a warm tone with a touch of grey. Additionally, EASYTOUCH 966 offers a new shade called Fjord blue, which derives its name from natural bodies of water and inlets created by glaciers. This deep, saturated blue hue has a slightly warm undertone and layers in plenty of texture with natural wood tones and neutral textures. Both EASYTOUCH 964 and 966 feature an anti-fingerprint coating meant to keep kitchens fresh.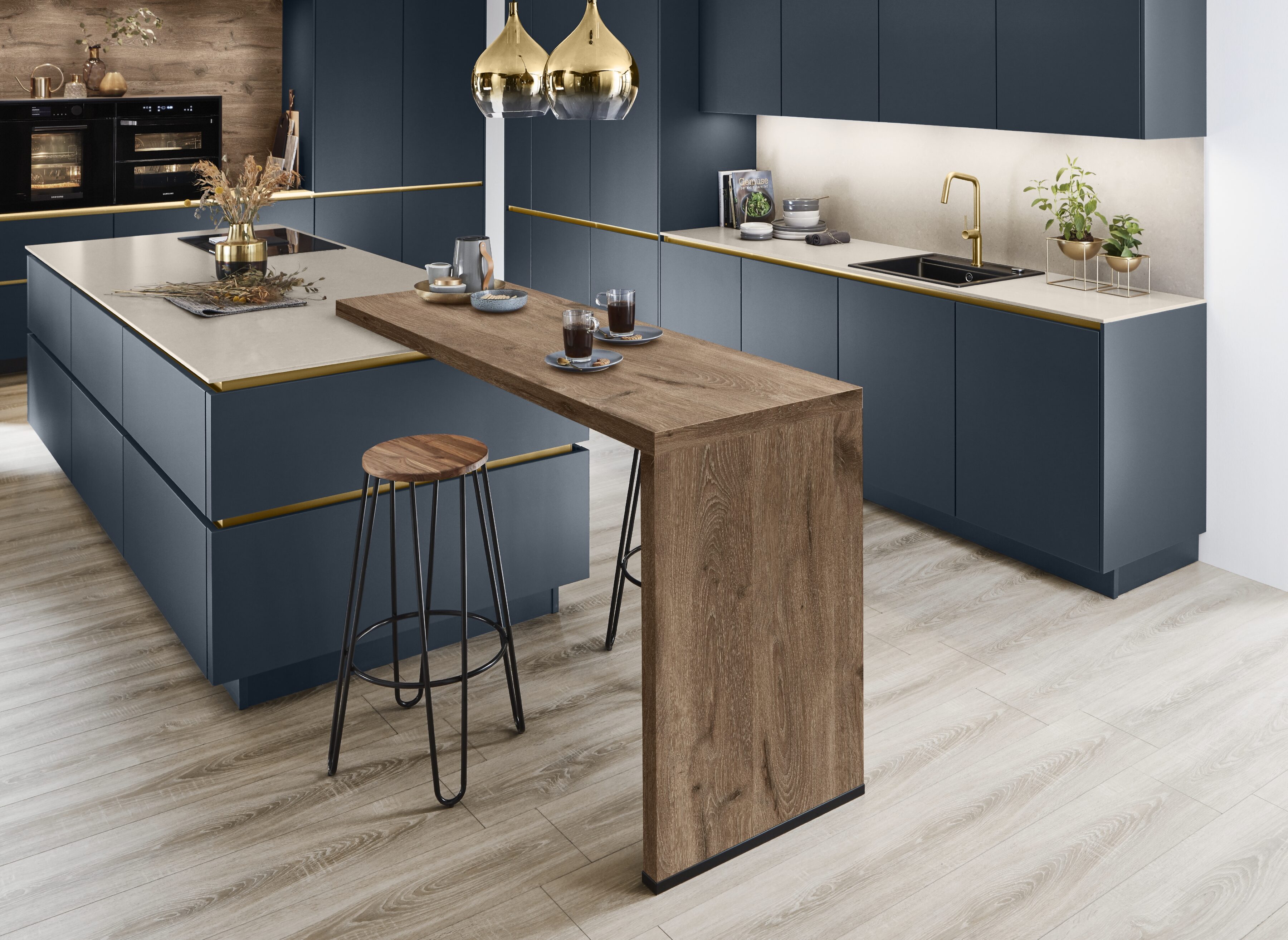 New Classics
Today's modern kitchens breathe new life into what's now and next. They honor form follows function philosophy, where technology-driven materials deliver on strength and durability – they are the new classics. And for nobilia, everything has its purpose in modern interior design, from the clean lines of door fronts to integrated lighting and storage options. For instance, nobilia's new and elegant ARTIS 938 provides an alpine white matte-glass appearance. The interplay of matte surface and modern technology creates an ideal foundation for an exclusive yet practical kitchen design.
Nobilia's NORDIC 786 collection further expanded its color selection by adding Slate Grey. Moreover, the entire NORDIC cottage style range has been updated with cornices, pilasters, and a new modern framed glass door with a horizontal division taking on more traditional elements with a modern flare. This new style creates a relaxed atmosphere with plenty of character.
nobllia's new 2022 collection, like all nobilia European Kitchen Furniture, is designed around the client's specific requirements, and the scale and proportion of the elements in the room. Explore the unique ways to personalize kitchens through materials, color, and more while embracing a truly modern style. To see all seven new collections from nobilia, view images here.
About nobilia
nobilia was founded in 1945 by brothers Johann and Willy Stickling and has since grown to become the worldwide market leader for kitchen furniture with customers in over 90 countries across all continents. nobilia manufactures exclusively at two locations in Germany, producing over 3,500 kitchens daily. For more than 75 years, nobilia kitchens have delivered up-to-date personalized design, outstanding brand quality and superb value. Still family-owned and operated, the nobilia culture honors and respects its long-lasting and close customer relationships around the globe.
Brittany Loeffler
White Good
717. 725. 0291
bloeffler@whitegood.com
Jennifer Brough
White Good
717. 278. 9338
jbrough@whitegood.com