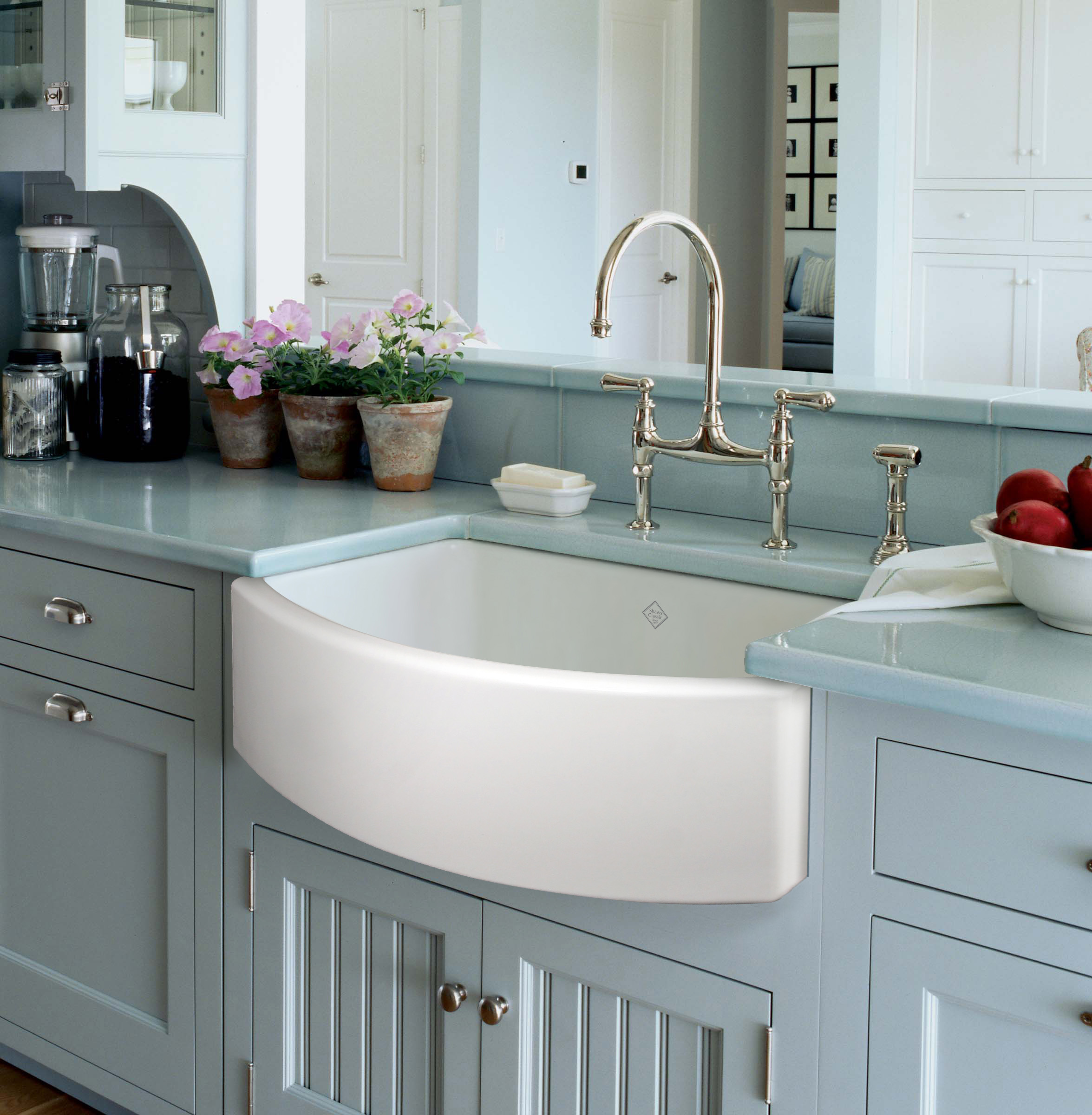 For the second year in a row, ROHL has won the Best of KBIS Award for Best Kitchen Product – Gold Award. On Saturday, April 20, 2013, the ROHL Shaws Original Waterside Apron Front Fireclay Kitchen Sink (RC3021) was named this year's best new kitchen product. Presented annually, the Best of KBIS Awards recognize the newest and most innovative kitchen and bath products. Over 30 manufacturers entered products for consideration this year.  Products were judged by an esteemed panel of judges, who also served as the KBIS Design Studio Designers, on excellence in design, functionality, quality/durability, flexibility and aesthetics/style.
"We are thrilled to have one of our sinks awarded the KBIS Best of Kitchen – Gold Award for the second year in a row," said Lou Rohl, CEO and Managing Partner of ROHL LLC. "The Shaws Waterside Sink celebrates the natural beauty of fireclay. The bowed front is simple and unadorned, yet graceful and is an elegant alternative to the timeless farmhouse style sink for which Shaws is known for worldwide. Its design complements both traditional and modern settings. To have a group of esteemed designers think as highly of the product as we do is a great honor."
Introduced at KBIS 2013, the ROHL Shaws Original Waterside Apron Front Fireclay Kitchen Sink (RC3021) is the latest introduction in the ROHL Fireclay Collection. Shaws Sinks are available in a variety sizes and styles and are available in both white and biscuit finishes. ROHL was the first company to market the Original Farmhouse Apron Sink design in North America over a decade ago.
As the originator of the fireclay sink, Shaws Sinks epitomize modern day craftsmanship, melding century old traditions and techniques with design innovation. Each sink is still hand poured, shaped and stamped with the name of the artisan who created it, just as it did more than a century ago when the company was founded in Darwen, England. Because of its unique fireclay construction, Shaws Sinks are extremely durable and resistant to acid, alkali and scratches. They are also recyclable, lead free and environmentally friendly.
In 2012, the ROHL Luxury Copper Stainless Sink was also awarded the KBIS Best of Kitchen Gold Award.
ROHL
ROHL LLC offers high-end, luxury faucets, sinks and fixtures for America's finest homes, resorts and hospitality projects. Headquartered in Irvine, California, ROHL has helped thoughtful homeowners and designers create personal expressions of authentic product for 30 years. Anchored in traditional family values, trust, integrity and innovation, the ROHL leadership possesses a dynamic entrepreneurial spirit that extends through the organization.
ROHL's strength comes from a synergy of family and friendship in partnership with suppliers and customers. From Traditional to Transitional to Modern, the ROHL line includes a wide range of top-quality faucets, fixtures, shower components and accessories. Sourced from Western Europe, New Zealand and North America, each is crafted to ROHL's rigid specifications and is uniquely tailored for each residential or commercial project. For more information on ROHL, please visit www.rohlhome.com.