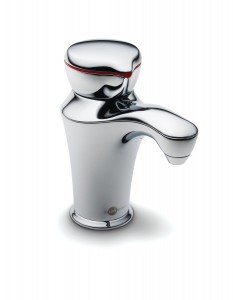 No matter the budget, any kitchen remodel can now include a splash of indulgence. That's because today, InSinkErator® is unveiling its stylish new entry-level instant hot water dispensers, named Contour™ and Classic™. With affordable price points, homeowners can now fulfill their desire for these popular kitchen amenities without breaking the remodeling budget.
"When homeowners are renovating their kitchens, they care about functionality and style, with an eye on price. At times, homeowners may find themselves sacrificing one for the other," said David MacNair, vice president of marketing for InSinkErator. "Our new Invite™ models mean the dispenser no longer remains a dream unfulfilled for a moderate kitchen renovation."
InSinkErator—a business unit of St. Louis-based Emerson Electric Co. (NYSE: EMR) and the largest manufacturer of instant hot water dispensers—first introduced its instant hot water dispensers in the 1970s, but the two new hot-only models complement a wide variety of kitchens of the 21st century.
Adding to the list of features is an upgraded hot-water Stainless Steel Tank that comes with each Invite dispenser and offers longer life and improved performance. A more robust optional filtration system is also available and includes the F-1000S and F-2000S filtration systems. F-1000S is the standard filtration system that replaces the F-201, and, like its predecessor, it reduces chlorine, taste and odor. F-2000S is a new premium filter system, and it similarly removes cysts, lead, mercury, asbestos, benzene and atrazine.
The hot-only models are designed with an automatic shut-off feature and instantly dispense 200-degree near-boiling water, helping to expedite cooking and preparing hot beverages like tea, hot chocolate and coffee. Hot water from a dispenser is also used to loosen baked-on food, remove stubborn lids and clean without the use of harsh chemicals, making it an essential aid to today's busy homeowner.
Invite models are expected to sell for less than $240 and will be available through home centers, kitchen and bath showrooms and plumbers in May 2013. For more information, visit www.insinkerator.com.
About InSinkErator
Headquartered in Racine, Wis., InSinkErator, a business unit of Emerson (NYSE: EMR), is the world's largest manufacturer of food waste disposers and instant hot water dispensers for home and commercial use. For more information about InSinkErator products, call 1-800-558-5700 or visit the company's website at www.insinkerator.com.
About Emerson
Emerson (NYSE: EMR), based in St. Louis, Missouri (USA), is a global leader in bringing technology and engineering together to provide innovative solutions for customers in industrial, commercial, and consumer markets around the world. The company is comprised of five business segments: Process Management, Industrial Automation, Network Power, Climate Technologies, and Commercial & Residential Solutions. Sales in fiscal 2012 were $24.4 billion. For more information, visit www.emerson.com.