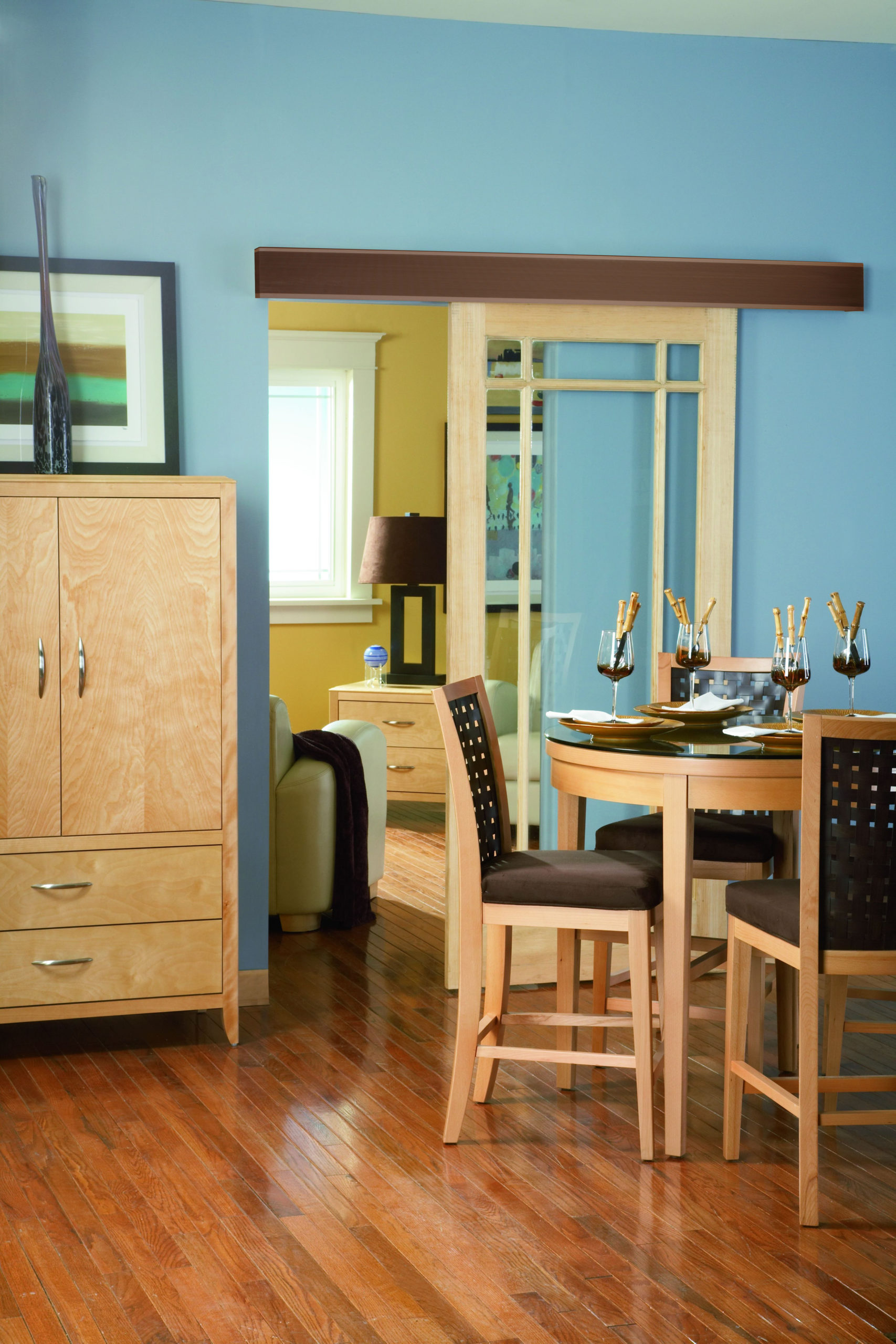 People often see a picture of a wall-mount sliding door in a magazine article or home enthusiast TV show and think "that would look great in my kitchen, bath or bedroom!" Now Johnson Hardware® has given homeowners and home design professionals two new reasons to like the way wall-mount sliding doors look by adding Bronze Anodized Finish Fascia and Clear Satin Anodized Finish Fascia (200WF) to its market-leading sliding door hardware line.
Created for use with Johnson Hardware's heavy-duty 200WM Series commercial grade wall-mount sliding door hardware, the new fascia and end caps provide two easy-to-install and beautifully finished options to the informal look of exposed track.
Wall mounted sliding doors are ideal space-saving solutions for dining rooms, kitchens, baths, closets, storage or utility rooms, playrooms and home offices.   Easy gliding wall mount doors are also suitable for homes where there are disabled residents.
Johnson's 200WM Series wall-mount sliding door hardware features a precision extruded I-Beam track  (available in lengths from 48" to 192"), heavy-duty track brackets, and adjustable ball-bearing wheel hangers, which make it capable of supporting interior doors weighing up to 400 lbs. For an added touch of elegance – and privacy, Johnson also offers Pocket door pull sets and locks sets, as well as Mortise Locks in satin nickel, silver patina, polished brass, medium bronze or oil rubbed bronze.
"I was looking to reclaim space in both my bathroom and laundry room," said Valerie McGovern, a retired Air Force airman who recently installed Johnson wall-mount hardware to dual sliding doors along the back wall between her kitchen and the bathroom and laundry/mudroom. "Installing sliding doors freed up a lot of floor space in the bathroom.  I'm really excited to have the floor space to replace the corner sink with a full sink and cabinet."
Since 1958, Johnson Hardware has earned a reputation as a leading producer of superior quality sliding, folding and pocket door hardware for residential and light commercial applications.  All products bear the Johnson stamp of integrity assuring they are USA-made to meet strict quality standards and guaranteed against manufacturing defects.
To learn more about Johnson Hardware's new, architectural grade fascia, visit https://www.johnsonhardware.com/200WF.htm, call 800-387-5664, or follow the Company on Twitter @JohnsonHrdware.