The best thing about creating something is experiencing it.
Neolith's new and inspiring vision
Backed by a completely new purpose, Neolith is positioning its brand with an all-new, much more inspiring, emotional and up-close identity.
Its new claim, "touch.feel.live," is a real declaration of principles aimed at inspiring the creation of unique indoor and outdoor solutions through that perfect balance between functionality and design it has always been known for.
CASTELLÓN, SPAIN (February 1, 2022) — Faithful to its cutting-edge character, the company is daring to explore and take risks by renovating its visual universe to make it more sophisticated and linear as well as more humanistic. It's an image that reflects its global market-leading brand of Sintered Stone and the values and attributes that define the company's forward-looking strategy.
This all-new image synthesizes values like passion, innovation, the capacity to create commercial alliances, a unique style and inspiration. A brand with heart that is courageous, committed and creative and which provides the ways to turn people's aspirations and dreams into reality. A friendly, up-close, sustainable, trustworthy, versatile and original brand that sets trends and has the mission of becoming the leading brand in the creation of unique spaces. This complete evolution in values and attributes is reflected not only in the brand but also within the organization, in its market positioning and its close relationships with distributors, professionals and end users.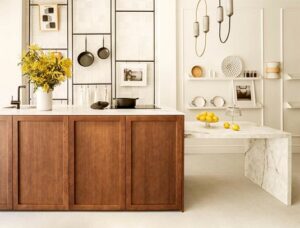 "We have a very clear purpose at Neolith which is to put end consumers at the center of our universe. Everything we think, do and say is for them. We want to help them create unique spaces and, above all, enjoy extraordinary experiences alongside Neolith," said José Luis Ramón, CEO of Neolith Group.
"We want to continue inspiring architects, interior designers, end users, those who love cooking, design, fashion… because that's what fills us with passion. Continuing to be the reference brand and promoting values like innovation and excellence. But, above all, we want Neolith to be the brand that allows people to make their dreams come true by occupying a relevant place in so many special spaces," added Oliver de la Rica, CMO of Neolith.
Surfaces to be experienced: touch.feel.live
The value of inspiration has become particularly significant as the means for connecting people with the brand, stimulating their imagination and inspiring unique, functional and sustainable indoor and outdoor solutions that generate extraordinary brand experiences, because, at Neolith, we believe "the best thing about creating something is experiencing it". This new positioning further manifests how the world would be a better place if everything we did, invented and created were for the purpose of enjoying it all.
On the other hand, the new claim, "touch.feel.live," proposes a journey through three verbs from the most tangible and experiential to the most sensitive and evocative. It's a real declaration of principles that concisely and emotionally reflects Neolith's purpose and personality so the places it helps create can be experienced to the fullest with the elegance, quality and exquisiteness inherent to Neolith. The essential balance between design and functionality aimed at the excellence and class it is known for.
Look & Feel
The new Neolith look & feel has been created with lines and perspectives constructing the new logo as a starting point for a new visual and linear universe tied to the concept of design and functionality. It's a spatial canvas used to build the brand language based on simplicity as well as a new elegant and sophisticated identity.
The look & feel of the new digital platform (www.neolith.com), inspired by fashion and
design, has a unique feature that accounts for all Neolith audiences with more applications all the time to offer added value in order to boost and elevate the brand to a higher level.
About Neolith
Founded in 2009, Neolith is the world's leading Sintered Stone brand. It's a revolutionary and innovative architectural surface with superior technical characteristics made of 100% all-natural raw materials. Designed and manufactured to meet the most demanding needs in the world of architecture and interior design, Neolith stands out due to its quality, versatility, durability and elegance as well as its sustainability. All around the world, it has become an essential style element for any kitchen, bathroom, facade, floor and even exclusive designer furnishings for indoor and outdoor areas with exquisite designs in combination with high performance. Committed to social responsibility, Neolith is also the first company in its sector to have achieved carbon neutral status in 2019. The company is currently immersed in an expansion plan aimed at key geographic areas such as North America, Europe, China and Australia in order to continue contributing to the creation of unique spaces and extraordinary experiences featuring sustainable functional design in the more than 100 countries where it is present through direct distribution as well as an extensive sales and partner network.