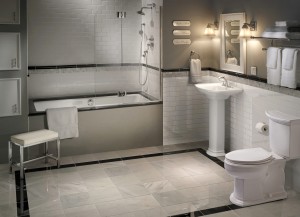 Mansfield Plumbing Products (Mansfield) announces a new high-efficiency toilet (HET). Part of its Barrett Suite, the new Barrett HET uses only 1.28 gallons per flush (gpf), compared to 1.6 gpf used by the suite's original toilet. This new 1.28 model uses less water, but has the same flushing power as the 1.6 gpf: 800 grams (MaP Rating)."Our team of product engineers have been brilliant at taking our most beloved products and creating new water-saving versions – all while keeping the flush just as powerful," says Charles Scott, vice president of marketing for Mansfield Plumbing. "We're thrilled that homeowners who love the look of our Barrett Suite can now buy a high efficiency model of the toilet, for less money than similar models on the market."
Like all "Affordable Style" products, the Barrett HET delivers showroom design at a fraction of the cost. Mansfield has seven "Affordable Style" suites ranging from contemporary to traditional designs. All suites include matching toilets, sinks and tub options. The Barrett Suite is a popular traditional suite. The Barrett HET joins Mansfield's extensive line of high efficiency toilets that include single and dual flush models plus gravity and pressure assist toilets. Some use as little as 1 gallon per flush. In the last few years, Mansfield has launched several high efficiency versions of its most popular toilets, including the Alto 1.28, Maverick 1.28 and Summit Dual Flush. For more information on Mansfield's products, visit www.mansfieldplumbing.com.
ABOUT MANSFIELD PLUMBING
Mansfield precision manufactures more than 2.5 million pieces each year at its U.S. headquarters in Perrysville, Ohio. Two other plants operate in the U.S.: Big Prairie, Ohio, and Henderson, Texas. With almost 500 employees, Mansfield is one of the largest domestic producers of sanitary ware, and is proud to say many of the products are "Made in the USA." Mansfield's plumbing fixtures and fittings are available through one of the industry's most extensive networks of more than 2,800 distributors located throughout the U.S., Puerto Rico and Canada. Additionally, the company's plumbing products are sold through select retail, do-it-yourself home improvement centers and designer kitchen and bath showrooms. Mansfield Plumbing Products, founded in 1929, was purchased by Corona (one of the world's largest manufacturers of china) in 2004 and is a leading producer of top quality, high-design, performance plumbing fixtures and fittings for use in residential, commercial and institutional markets. Visit www.mansfieldplumbing.com or call 877-850-3060 for more information.
MEDIA CONTACT
Angela D'Amario, 770-310-1152, adamario@asoy.com
EDITOR'S NOTE
Mansfield Plumbing representatives available for interviews.
###