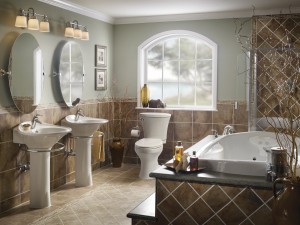 — New Essence HET also features a sleeker design than the suite''s original toilet —
Guests at this year''s KBIS will be the first to see Mansfield Plumbing Products (Mansfield) two new highefficiency toilets (HET). Both Montclair HET and Essence HET use only 1.28 gallons per flush (gpf), and complement the current fixtures in the Essence and Montclair Suites. The suites are part of Mansfield''s ""Affordable Style"" collection, and include matching toilet, sink and tub options in a variety of design styles. The Montclair and Essence suites'' original toilets use 1.6 gpf. The new Essence HET additionally features a sleeker design than the Essence Suite''s original toilet, with a smooth contoured tank and lid. ""Over the last few years, we''ve worked tirelessly to take our most beloved products and create water-saving versions without sacrificing on flushing power and overall performance,"" says Charles Scott, vice president of marketing for Mansfield Plumbing. "
"We''re thrilled that the bath industry''s leaders will be first to see our powerful, yet stylish, Montclair HET and Essence HET at KBIS."" In addition to using only 1.28 gpf, the new HETs also:
•• Feature concealed trapways for easier cleaning
•• Comply with ADA requirements
•• Have 3"" flush valves that deliver faster tank emptying rates,
resulting in better flush performance
•• Include jet and hydraulic enhancements that virtually eliminate
clogs
•• Consistently shut off over a wide range of water pressures thanks to
pilot-operated fill valves
•• IAPMO / MaP certified to flush 800 grams (Essence HET pending
certification)
Mansfield''s seven ""Affordable Style"" suites are known for high style at affordable prices. The suites range in design styles, from contemporary to traditional. Three other ""Affordable Style"" suites come with water-saving toilet options, including the Barrett Suite, the Waverly Suite and the Enso Suite. For more information on Mansfield''s products, visit www.mansfieldplumbing.com.
ABOUT MANSFIELD PLUMBING
Mansfield precision manufactures millions of pieces each year at its U.S. headquarters in Perrysville, Ohio. Two other plants operate in the U.S.: Big Prairie, Ohio, and Henderson, Texas. With almost 500 employees, Mansfield is one of the largest domestic producers of sanitary ware, and is proud to say many of the products are ""Made in the USA."" Mansfield''s plumbing fixture and fittings are available through one of the industry''s most extensive networks of more than 2,800 distributors located throughout the U.S., Puerto Rico and Canada. Additionally, the company''s plumbing products are sold through select retail, do-it-yourself home improvement centers and designer kitchen and bath showrooms. Mansfield Plumbing Products, founded in 1929, was purchased by Corona (one of the world''s largest manufacturers of china) in 2004 and is a leading producer of top quality, high-design, performance plumbing fixtures and fittings for use in residential, commercial and institutional markets. Visit www.mansfieldplumbing.com or call 877-850-3060 for more information.
MEDIA CONTACT
Angela D''Amario, 770-310-1152, adamario@asoy.com
EDITOR''S NOTE
Mansfield Plumbing representatives available for interviews.
###