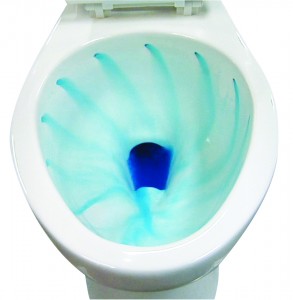 — The Cascade's unique bowl design and swirling flush action raise the bar for high-efficiency toilets –
Mansfield Plumbing Products (Mansfield) announces the U.S. launch of its rimless Cascade toilet, which is truly the first of its kind. The unique bowl design stays cleaner longer by eliminating the primary place dirt and stains collect – under the rim. The swirling action that cleans the sides of the bowl is created by introducing water at the top of the toilet bowl when the trip lever is activated. The holes at the top of the bowl are plainly visible and accessible for easy cleaning. Plus the Cascade only uses 1.28 gallons per flush.
"Just like most Mansfield products, the Cascade is more affordable than most other high efficiency toilets in the market," says Charles Scott, vice president of marketing for Mansfield Plumbing. "We pride ourselves in offering products that provide the consumer with a good value, saving them money through affordable prices and decreased water bills." www.mansfieldplumbing.com.