New sink provides both double-basin convenience and roominess of single-basin sink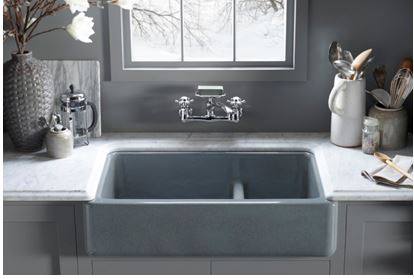 The classic apron-front sink design typically features a large single basin, but many homeowners like the functionality of a double basin. In an effort to provide consumers with options that fit their design preference and lifestyle, Kohler Co. adds a double-basin sink to this farmhouse style. The Kohler-exclusive Smart Divide® saddle perfectly complements the smooth design lines of the Whitehaven®  apron-front sink, one of the company's most popular apron-front models.
"Smart Divide saddles have been very popular," says Adam Horwitz, director of kitchen products for Kohler Co. "It is 'smart' in that the half-saddle allows you to easily fit and move large pots and pans around, and still fill a basin with soapy water. It's the best of both worlds."
Half the height of conventional dividers, the KOHLER Smart Divide design was developed as a result of observing how consumers use their kitchen sinks to perform a variety of food preparation and cleaning tasks. By designing the divider to be lower than traditional basin dividers, the sink is better suited to accommodate larger pots and pans with extended handles than standard double-basin sinks. Since extra-long pots and pans can be more fully submerged due to the Smart Divide design feature, less water is needed to effectively soak this kitchenware.
The challenge with apron-front sinks has usually been installation, which often required replacing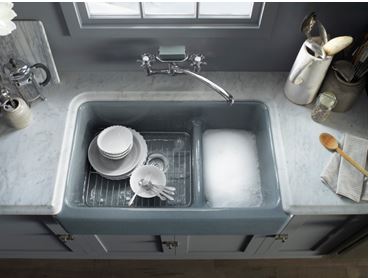 not only the countertop, but also cabinetry. To alleviate this concern, the KOHLER Whitehaven Self-TrimmingTM apron-front Smart Divide kitchen sink is offered with a 7-inch apron, which is ideal for homeowners who want to achieve a farmhouse look without replacing their cabinetry, along with a conventional 9-inch apron, which fits on an apron-front sink base cabinet. The sink basin is a generous 9 inches deep on both versions.
The self-trimming apron feature on this sink only requires a rough cut to the cabinet for installation. And because it is made from cast iron, the installer can be assured that the dimensions are perfect every time and that it will install with a predictable fit and finish. No additional trim work or caulking to fill cut lines is necessary.
KOHLER Cast Iron Kitchen Sinks
KOHLER enameled cast iron will last for generations of use and is guaranteed not to chip, crack or burn.
Available in 18 different colors to create a personalized focal point in the kitchen.
All KOHLER enameled cast iron kitchen sinks are crafted in Kohler, Wis., and from at least 80 percent recycled materials.
Enameled cast iron has a smooth, non-porous surface, which makes it very easy to clean.
KOHLER cast iron sinks installed in North America carry a lifetime limited warranty for as long as the original purchaser owns his or her home. For complete warranty information visit kohler.com.
About Kohler Co.
Founded in 1873 and headquartered in Kohler, Wisconsin, Kohler Co. is one of America's oldest and largest privately held companies comprised of more than 30,000 associates. With more than 50 manufacturing locations worldwide, Kohler is a global leader in the manufacture of kitchen and bath products; engines and power systems; premier furniture, cabinetry and tile; and owner/operator of two of the world's finest five-star hospitality and golf resort destinations in Kohler, and St Andrews, Scotland.
Contact
Vicki Hafenstein
vicki.hafenstein@kohler.com
920-457-4441, ext. 70519
Mirjam Lippuner
mirjam.lippuner@kohler.com
920-457-4441, ext. 71125
For media materials, please visit kohler.com/press.
Consumers can visit www.us.kohler.com or call 1-800-4-KOHLER.