Easy-to-install and functional for everyday use, Verdera is the perfect addition
to any bathroom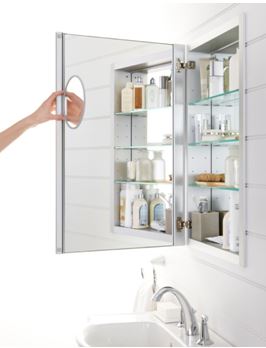 When upgrading a bathroom space, it isn't always the big changes that have the most impact. Often, it is something simple that can add a bit of elegance and glamour – not to mention functionality – and make a noticeable difference in the daily routine. Mindful of these critical elements to improve the experience for consumers, Kohler Co. launches the Verdera™ line of medicine cabinets that provide graceful aesthetics and thoughtful functionality.
Some of the features that make Verdera stand out from the vast array of medicine cabinets in today's market are its innovative storage solutions and an adjustable magnifying mirror.
"Consumer research shows that two consistent frustrations with many existing grooming spaces are insufficient storage and the inability to see both close-up and far-away tasks," says Jeff Mayerl, senior product manager of Kohler mirrored cabinetry. "We find that many consumers are leaning over or even sitting on top of their vanity in order to apply makeup. Verdera addresses these needs by providing increased storage space, as well as an innovative, adjustable magnifying mirror."
Homeowners can adjust the height magnifying mirror to suit individual needs, as well as pull it out towards them for close-up use. When no longer needed, the mirror folds neatly into a flat position against the interior of the door, not intruding into the storage space of the cabinet. Additionally, Verdera is available with an optional exposed, hanging shelf that comes attached.
The Verdera family of cabinets is available in single-, two- and three-door configurations with adjustable glass shelves for ample storage space within the cabinets. To accommodate various bathroom sizes, this 30-inch tall cabinet is offered in widths ranging from 15-by-30 inches, ideal for small spaces, up to 40-by-30 inches, for larger rooms and expansive storage space. Verdera is offered in three configurations: basic cabinet style, cabinet with magnifying mirror and slow-close functionality, and quick-access cabinet with magnifying mirror and slow-close functionality.
The Verdera cabinet can be recessed or surface-mounted, the latter cutting down on the time and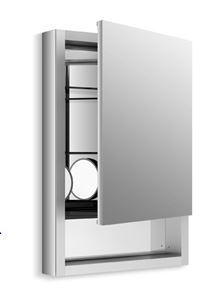 work required for installation by utilizing a hanger bar, installed directly on the wall. The Verdera cabinet slides easily into place on the bar and is secured with mounting clips. It is essentially the same process as hanging a picture frame, as opposed to the bottom-up installation found on most cabinets. The easy installation makes the cabinet ideal for both do-it-yourself and professional installation projects. An added benefit of this installation system is that several of the cabinet models can open with a left- or right-hand swing, allowing the door orientation to be decided on the jobsite.
Verdera is constructed with rust-free aluminum – ideal for moist bathroom environments – and offers high-end finishing touches such as slow-close hinges, which prevents the door from slamming, and interior mirrored surfaces without the high-end cabinet price tag.
About Kohler Co.
Founded in 1873 and headquartered in Kohler, Wisconsin, Kohler Co. is one of America's oldest and largest privately held companies comprised of more than 30,000 associates. With more than 50 manufacturing locations worldwide, Kohler is a global leader in the manufacture of kitchen and bath products; engines and power systems; premier furniture, cabinetry and tile; and owner/operator of two of the world's finest five-star hospitality and golf resort destinations in Kohler, and St Andrews, Scotland.
Contact
Vicki Hafenstein
vicki.hafenstein@kohler.com
920-457-4441, ext. 70519
Mirjam Lippuner
mirjam.lippuner@kohler.com
920-457-4441, ext. 71125