Sink features durable construction, easy-to-clean corners, and useful accessories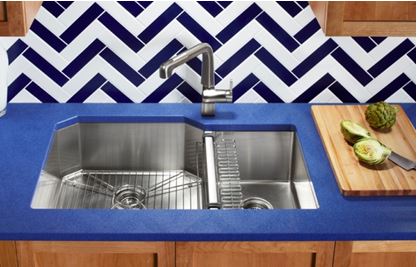 A kitchen sink that lacks smart design and functionality can almost unnoticeably make handling daily kitchen tasks more challenging, particularly cleaning. On the other hand, the right kitchen sink will intuitively make your clean up routine easier and less of a hassle. Always striving – this time literally – to add convenience and comfort to consumers' everyday lives, Kohler introduces the Strive™ stainless steel kitchen sinks.
Blending Kohler's expertise in kitchen sink design with consumer feedback about organization and ease of cleaning, the Strive stainless steel kitchen sink comes in multiple configurations that include intuitive design features and are equipped with a variety of task-oriented accessories.
"Strive is a professional-style sink with characteristics that any homeowner can appreciate," says Mike Marbach, product manager for stainless steel kitchen sinks. "Whether you use your sink multiple times a day or only a few times a week, the easy-to-clean corners and smart accessories help cut down on the time and effort needed to finish your tasks."
The KOHLER Strive undermount sink is available in five configurations; each with accessories included, and features 10-millimeter corner radii for easy cleaning and nine-inch basin depth for soaking and cleaning large cookware. As an installation benefit, the 10-millimeter radii allow for easier counter cutting  in comparison to sharper corner radii. The Strive family of sinks is constructed of 16 gauge stainless steel, a thicker, more durable gauge than many others at this price point.

Strive entertainment sink comes with fitted bottom basin rack

Strive mediumand large single basin sinks include fitted bottom basin rack, single basin dish cloth bar and utility shelf that fits across the basin for extra storage of scrub brushes and sponges

Strive double equal basin sink includes fitted bottom basin rack, divider dish cloth bar and utility shelf

Strive extra large offset sink includes fitted bottom basin rack, divider dish cloth bar and utility shelf.  The extra large basin width allows for cleaning and soaking very large cookware, and will even allow a half cookie sheet to lie flat in the sink basin.
About Kohler Co.
Founded in 1873 and headquartered in Kohler, Wisconsin, Kohler Co. is one of America's oldest and largest privately held companies comprised of more than 30,000 associates. With more than 50 manufacturing locations worldwide, Kohler is a global leader in the manufacture of kitchen and bath products; engines and power systems; premier furniture, cabinetry and tile; and owner/operator of two of the world's finest five-star hospitality and golf resort destinations in Kohler, and St Andrews, Scotland.
Contact
Vicki Hafenstein
vicki.hafenstein@kohler.com
920-457-4441, ext. 70519
Mirjam Lippuner
mirjam.lippuner@kohler.com
920-457-4441, ext. 71125