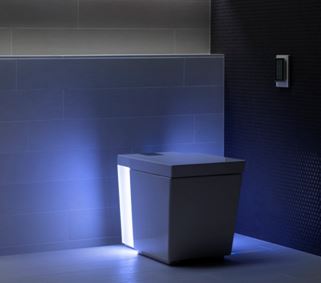 The desire to innovate runs deep at Kohler Co. and doesn't end when a new product is on the market. This is especially true when it comes to a high-profile product like the iconic Numi® toilet, which enjoyed a successful launch and global accolades unmatched in Kohler Co. history. As a result of that continued drive to innovate and improve the user experience, the KOHLER Numi toilet receives several enhancements: additional user-friendly features like a Bluetooth®* receiver, SD card for accessing personalized playlists, and ambient lighting.
"Consumer feedback on the Numi toilet allowed us to identify which additional upgrades were most important to users," says Brian Hedlund, Kohler senior product manager for toilets and bidets. "The new enhancements will allow for better enjoyment of the functionalities."
Kohler's most advanced toilet includes a sleek, interactive LCD touch-screen interface, built-in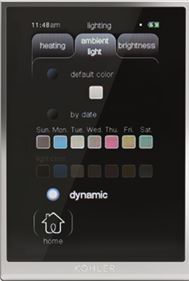 personalized bidet functionality and deodorizer, innovative dual-flush technology with 0.6 and 1.28 gallons per flush, intuitive auto-open and -close lid, and a heated seat and foot warmer.
In addition to the vast array of user options available on the Numi, several features have been added:

Bluetooth® receiver for users to stream audio directly from mobile device

Ambient lighting options allow users to choose to cycle through all seven colors, a color specific to each day of the week or a static color for the current use

SD card  for selection of a custom playlist or personalized welcome greeting

Accessible battery pack supporting up to 100 flushes ensures that in the event of a power outage, Numi will continue to flush normally

Service USB port located in rear of toilet offers easy software updates by service representatives
About Kohler Co.
Founded in 1873 and headquartered in Kohler, Wisconsin, Kohler Co. is one of America's oldest and largest privately held companies comprised of more than 30,000 associates. With more than 50 manufacturing locations worldwide, Kohler is a global leader in the manufacture of kitchen and bath products; engines and power systems; premier furniture, cabinetry and tile; and owner/operator of two of the world's finest five-star hospitality and golf resort destinations in Kohler, and St Andrews, Scotland.
Contact
Vicki Hafenstein
vicki.hafenstein@kohler.com
920-457-4441, ext. 70519
Mirjam Lippuner
mirjam.lippuner@kohler.com
920-457-4441, ext. 71125
For media materials, please visit kohler.com/press.
Consumers can visit www.us.kohler.com or call 1-800-4-KOHLER.