Familiarity of lever-handle flush actuator provides easy transition for homeowners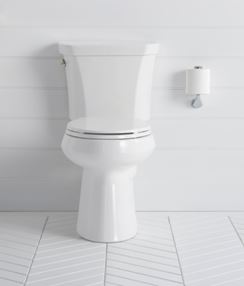 Any kind of change is a challenge to human nature – this is especially true for things one uses every day, like a toilet. Many Americans shy away from dual-flush toilets because they are unfamiliar with the design and unsure how to use the two different flushes. To help ease the decision to incorporate water-conserving dual-flush toilets into homes, Kohler Co. introduces a new dual-flush toilet line featuring the familiar side-mount trip lever feature, but with an innovative two-piece design that makes it easy to understand the two flushing options.
"Consumer feedback on standard dual-flush toilets, where the flush actuator is on top of the toilet tank, told us two things: Homeowners like to store items on the top of toilet tanks, and they want a water-saving flush that is easy to use and easy to understand," says Brian Hedlund, Kohler senior product manager for toilets and bidets. "Splitting the traditional trip lever into two levers – for light and full flush – frees up the tank lid and gives homeowners a dual-flush solution as easy to use as other lever-handle high-efficiency toilets."
Actuating the bottom, or long portion, of the lever provides a 1.1-gallon light flush and pressing down on the two pieces together provides a 1.6-gallon full flush. KOHLER dual-flush technology boasts significant water savings of as much as 16,500 gallons of water annually for a family of four over a 3.5 gallon-per-flush toilet. The new dual-flush toilets carry the EPA WaterSense certification and their siphon jet performance is similar to existing 1.28 gpf toilets, providing exceptional performance and bowl cleanliness.
This new dual-flush trip lever is available on several KOHLER toilet models in both wholesale and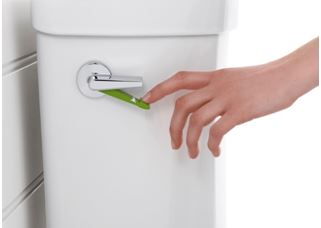 retail distribution channels. The KOHLER Highline® Comfort Height® toilet and Wellworth® regular height toilet elongated- and round-front options are available at wholesale; KOHLER Cavata® Comfort Height toilet and Highline Classic Comfort Height toilet at retail.
Unlike standard dual-flush toilets with actuator buttons on the tank lid, the new KOHLER dual-flush trip lever is ADA-compliant, allowing the Comfort Height toilet models with this flushing system to carry the ADA compliancy.
About Kohler Co.
Founded in 1873 and headquartered in Kohler, Wisconsin, Kohler Co. is one of America's oldest and largest privately held companies comprised of more than 30,000 associates. With more than 50 manufacturing locations worldwide, Kohler is a global leader in the manufacture of kitchen and bath products; engines and power systems; premier furniture, cabinetry and tile; and owner/operator of two of the world's finest five-star hospitality and golf resort destinations in Kohler, and St Andrews, Scotland.
Contact
Vicki Hafenstein
vicki.hafenstein@kohler.com
920-457-4441, ext. 70519
Mirjam Lippuner
mirjam.lippuner@kohler.com
920-457-4441, ext. 71125
For media materials, please visit kohler.com/press.
Consumers can visit www.us.kohler.com or call 1-800-4-KOHLER.