Bluetooth-enabled KOHLER Moxie brings music into the shower with an integrated wireless speaker that's both rechargeable and removable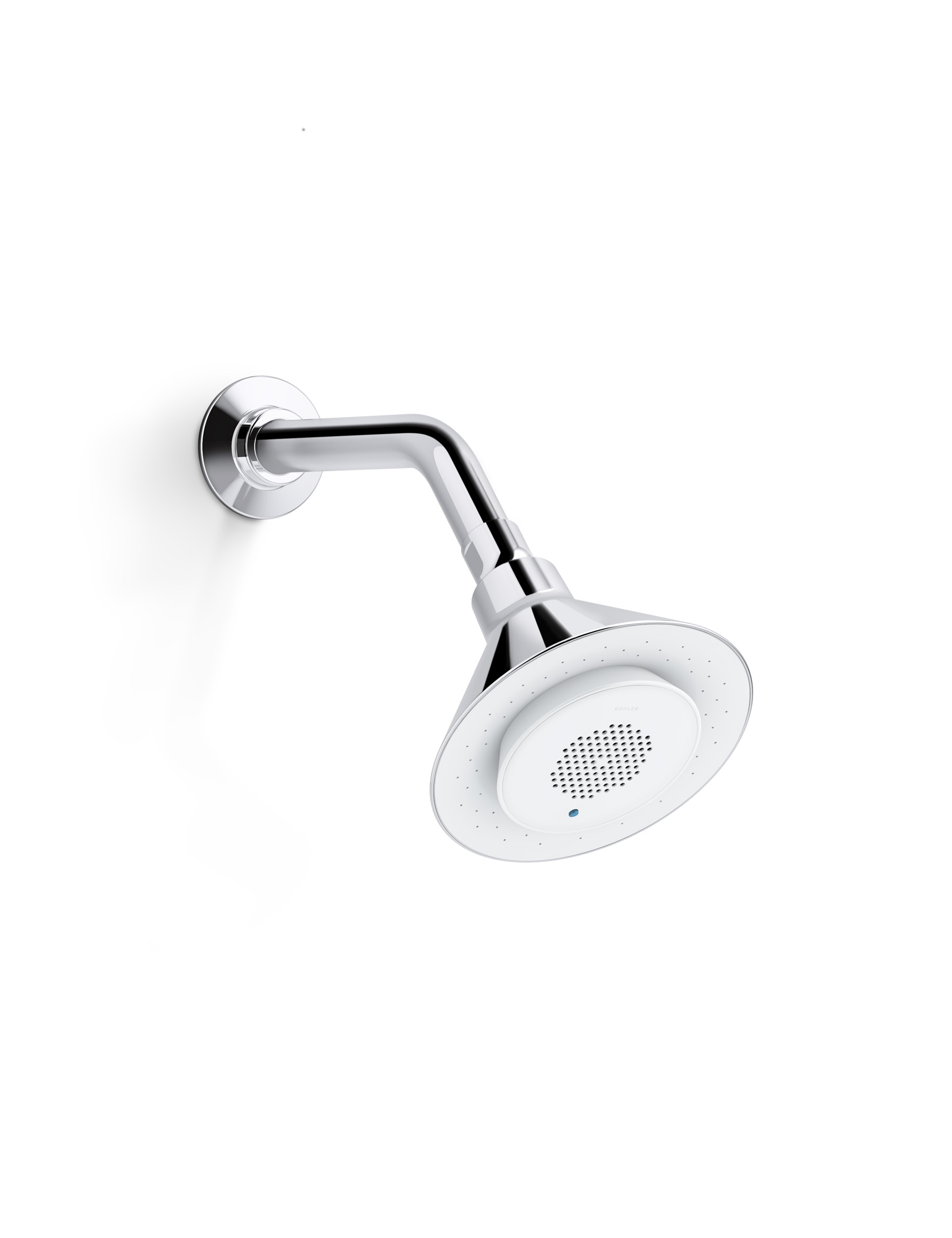 Smartphones are everywhere. More than 38 percent of adults —120 million—in the U.S. own one, and the number continues to climb. Users even admit to taking them everywhere; a recent survey found 75 percent use their phones in the bathroom. To embrace the demand for constant connectivity, Kohler Co. introduces a new sensory experience to showerheads with the KOHLER Moxie™ showerhead.
"We're seeing a growing demand for music in the bathroom," says Kohler performance showering product manager Leslie Bronson. "The Moxie showerhead is the first of its kind to combine the delivery of water and music. And with the proximity of the Bluetooth*-enabled wireless speaker, bathers are simultaneously showered with music and a best-in-class spray experience."
The Moxie showerhead syncs with any Bluetooth-enabled device—smartphones and mp3 players—and streams music directly into the shower. But the fun doesn't stop there; the speaker pod can be removed for enjoyment on the go, throughout the rest of the bathroom and beyond. "Smartphones are transforming the way people access music," Bronson says. "Half of all smartphone users stream music directly from their devices. The Moxie Showerhead takes accessibility to a whole new level. It offers a convenient, stylish sound boost. It's like having your own mobile DJ."
The KOHLER Moxie showerhead will be available for purchase in showrooms and on Amazon.com beginning November 19.
About the KOHLER Moxie Showerhead:
Installation is fast and simple, the same required for a standard showerhead.
Sixty angled nozzles provide a full, rich coverage.
Audio Control is managed through the paired Bluetooth-enabled device, such as a smartphone or mp3 player.
The on/off button discretely incorporated into the speaker capsule's design also includes a light that changes color to indicate when the speaker is paired and when the battery needs to be charged.
A lithium battery** provides on average seven hours of playtime; recharging the speaker is easy with the USB cord provided.
Redocking the speaker capsule is simple. A strong magnet located in the dock's base maintains a secure hold.
Recommended and Related Materials
About Kohler Co.
Kohler Faucets is a global organization and part of the Kohler Co. Kitchen & Bath Group. With plants in North America, China, Egypt, the United Kingdom and France, it is a leading manufacturer of kitchen and bath faucets, showering products and decorative accessories – marketed globally under the brand names KOHLER, Mira, Jacob Delafon and Rada.
Founded in 1873 and headquartered in Kohler, Wisconsin, Kohler Co. is one of America's oldest and largest privately held companies comprised of more than 30,000 associates. With more than 50 manufacturing locations worldwide, Kohler is a global leader in the manufacture of kitchen and bath products; engines and power systems; premier furniture, cabinetry and tile; and owner/operator of two of the world's finest five-star hospitality and golf resort destinations in Kohler, and St Andrews, Scotland.
Contact
Lauren Aust
920-457-4441, ext. 70122
Mirjam Lippuner
920-457-4441, ext. 71125
For media materials, please visit kohler.com/press.
Consumers can visit www.us.kohler.com or call 1-800-4-KOHLER.