Harnessing nature's symmetry, rhythm and beauty, the Awaken shower and handshower collection offers a premium shower experience at an affordable price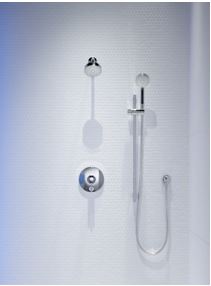 Geometric in makeup yet organic in form, water is arguably the earth's most powerful element and valuable resource. Awaken™, Kohler's newest showerhead and handshower collection, captures this artful dichotomy to provide a rich, yet budget-friendly showering experience that harnesses the power and beauty of water.
The Awaken Series B and Series G showerhead and handshower designs complement transitional and contemporary aesthetics and are each available in Polished Chrome and Vibrant Brushed Nickel. Series B is organic in design, taking inspiration from forms found in nature, while Series G takes design queues from classic modern design with simple, architectural forms. Three spray settings (wide coverage, intense drenching and targeted spray) allow the user to select his or her desired experience with a smooth movement of the thumb tab.
With the showerheads and handshowers starting at $34 and $45 respectively, Kohler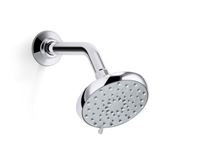 performance showering product manager Leslie Bronson says Awaken offers plumbers an opportunity to take their service to the next level. "Awaken's affordable price makes it easy for a plumber to keep a stock in the truck and up-sell to a homeowner," Bronson says. "Suddenly, a job originally booked for a quick toilet repair parlays into a fast shower update."
But how can a leading kitchen and bath manufacturing company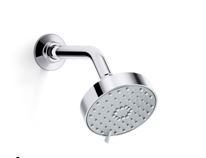 offer a collection with such a budget-friendly price tag? Bronson says it was a matter of connecting with the homeowner who has become more discerning about how and where their dollars are spent, especially when it comes to home improvement. "Kohler offers a top-notch, singular level of quality in manufacturing all of its products," Bronson says. "Our engineers in Kohler, Wis. embrace these standards, creating an affordable collection that offers the same rich, luxurious experience Kohler showerheads are known for."
Awaken Shower and Handshower Collection:
Available sprayhead sizes: 90 mm and 110 mm
Flow rate: 2.0 gpm; meets WaterSense and LEED requirements
Three spray settings: Wide Coverage, Intense Drenching and Target Spray
Available components: Slidebar kits, Slidebar, handshower cradle, shower arm diverter and shower hose
MSRP: Showerheads starting at $34; handshowers starting at $45
Recommended and Related Materials
Buying Guide: Choose the Shower That's Right for You
About Kohler Co.
Kohler Faucets is a global organization and part of the Kohler Co. Kitchen & Bath Group. With plants in North America, China, Egypt, the United Kingdom and France, it is a leading manufacturer of kitchen and bath faucets, showering products and decorative accessories – marketed globally under the brand names KOHLER, Mira, Jacob Delafon and Rada.
Founded in 1873 and headquartered in Kohler, Wisconsin, Kohler Co. is one of America's oldest and largest privately held companies comprised of more than 30,000 associates. With more than 50 manufacturing locations worldwide, Kohler is a global leader in the manufacture of kitchen and bath products; engines and power systems; premier furniture, cabinetry and tile; and owner/operator of two of the world's finest five-star hospitality and golf resort destinations in Kohler, and St Andrews, Scotland.
Contact
Lauren Aust
920-457-4441, ext. 70122
Mirjam Lippuner
920-457-4441, ext. 71125