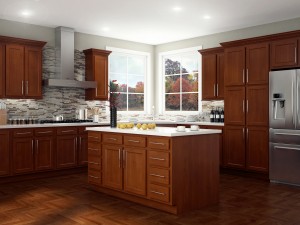 Jeffersonville, IN – Kitchen Kompact Inc. introduced a new product to begin production starting early 2013. Glenwood Beech is a dark shaker style, recessed panel kitchen cabinet.
Gordy Gahm, the Vice-President of Sales of Kitchen Kompact, announced the product today stating,"Glenwood Beech is the most competitive, quality-built cabinet in the Kitchen Industry, Period!" Kitchen Kompact has been known for years to be a manufacturer of only oak and maple cabinetry.
The new Glenwood Beech brings another wood species to Kitchen Kompact. Plus, it completes its new Infinity Collection of recessed panel cabinets.