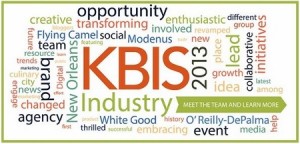 LANCASTER, PA –  KBIS, North America's premier showcase of what's new and noteworthy in the Kitchen and Bath industry, has announced its new PR and marketing affiliation for KBIS 2013. For the first time in KBIS history, a hybridized agency collaborative will lead all marketing and communications efforts. The players involved come from Flying Camel in Brantford, Ontario, O'Reilly-DePalma in Atlanta and Chicago, White Good in Lancaster, PA and Modenus in Orlando and London.
"Drawing upon the respective strengths of four different agencies and entities that specialize in the building and design industry is key to transforming this year's show in New Orleans from a trade show to an annual industry event," says Jim Scott, Managing Director, Kitchen and Bath Show Nielsen Expositions. "In this new social era of connecting and collaborating, we're confident this team will help to bring new insights into KBIS making it an inspiring, interactive showcase of everything new, where the brightest and best assemble to spot trends, experience product introductions and find the practical solutions and valuable connections that will take them into the future."
White Good & O'Reilly-DePalma – Marketing & Public Relations
White Good will lead on all Marketing and Public Relations initiatives. New for 2013 includes a revamped Digital Pressroom to better communicate the latest industry news, product introductions and show information for both exhibitors and attendees and a VIP Media Tour for select shelter and architectural media.
"New Orleans stands out as an opportunity to the rest of the US to rethink the obvious, it's a place that encourages people to see things from a new perspective," explains Sherry Qualls, President of White Good. "New Orleans is a hotbed of creative impulses and rebirths. To that end, KBIS is embracing the idea of a collaborative effort between agencies to present the show's new face."
O'Reilly-DePalma contributes to strategy, adds voice to social discussions and provides measurement analysis for the effort. "The open innovation among our agencies is the new model for revenue growth in the social economy," noted Nora DePalma, principal of O'Reilly-DePalma. "It is analogous to the spirit of KBIS, where all of the industry's audiences come together to get business done."
Flying Camel Advertising, Design + PR – Social Media
"We've collaborated with O'Reilly-DePalma before, worked with Modenus on behalf of our agency clients, and have admired the work of White Good for years. We're so thrilled to be part of this select group," says Leanne Wood-Newman, Principal of Flying Camel. As the social media lead for KBIS, we are not only involved in the overall strategy, but will be the first to break news and engage with the community through the KBIS social media platforms. "It's an exciting time to be in the thick of the conversation when KBIS is undergoing so much positive change," adds Wood-Newman.
Modenus – Digital Platforms
Spearheaded by Founder and CEO, Veronika Miller, Modenus is the essential hub for manufacturers and designers. "We are thrilled to be part of the team that was created to help KBIS evolve from a trade show to a year round industry brand that provides inspiration, information, education and an opportunity for all participants to engage with one another through social and digital initiatives and events," said Miller.
Modenus will curate and promote a product showcase in addition to featuring KBIS' Lifestyle Quarters through the extended reach of the highly visible BlogTour campaign that brings a carefully selected group of influential kitchen and bath bloggers to New Orleans during the show.
New Orleans is an ideal location to launch these new initiatives. It's a new city and a chance for a new beginning. Just as the "Crescent City" encourages creativity and the excuse to see things from a different perspective, so too has the show embarked on a new way of thinking about itself.
KBIS is embracing the new and the now and New Orleans is the perfect city to show that to the world. The wealth of historical and cultural diversity the city offers, as well as its rich culinary tradition and musical stylings will be felt both on and off the show floor.
Through KBIS' embrace of its new hybrid agency, the show is also setting itself up to be the year-round event it's always needed and wanted to be. Look to the KBIS brand for a variety of regional, micro-events throughout the year, as well as being a resource for the latest trends and industry news.
"We're setting the stage now to be 'the go-to place' for not only what's new in the industry, we're a resource where our attendees can learn to be successful over the long term," says Scott. "KBIS is a culmination of many months of effort and planning, and it represents something that won't go away –the resilience and passion of the Kitchen and Bath Industry. As we move forward, KBIS will make itself a more vital and enthusiastic partner as you embrace your future."
This year's event will take place from April 19 through April 21 at the Ernest N. Morial Convention Center in New Orleans, LA. To learn more or to register for the show, visit www.kbis.com.