 Las Vegas, NV – January 2023 – Kallista, the leading designer of luxury solutions for bathrooms and kitchens, will debut its newest finish during the Kitchen & Bath Industry Show in Las Vegas, NV from January 31 through February 2, 2023. The finish, Brushed French Gold, is a warm-toned finish offering a subtle texture with a distinct glow.
Brushed French Gold is crafted through a unique process of layered application, where colored lacquer is allowed to penetrate the metal with a tactile quality. A striking first impression, Brushed French Gold is designed to enhance your space with a subtle matte texture and decidedly modern approach.
"This year, Kallista will focus on finishes, textures, and upgrades. We are on a journey to define our perspective within the luxury market. The Brushed French Gold finish is the first step as we look to the past to influence our future," shares new Managing Director Alexander Dornbracht.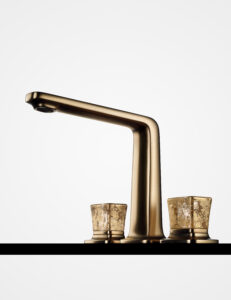 Kallista, Greek for 'most beautiful', was born from the same ancient sparks of desire and the belief that the power of design can evoke our strongest emotions. Brushed French Gold is distinctly Kallista and the first faucet designed using physical vapor deposition (PVD) technology for the brand. This precise application ensures the finish will withstand the test of time due to its high hardness, excellent adhesion, uniform coating, and superior wear resistance. With an authentic approach to design, Kallista aims to produce quality materials that contribute to a dynamic conversation beyond trends.
Kallista and the Brushed French Gold finish will be at booth #N2205. For more information, images, or appointment requests during the show, please email kallista@helloprgroup.com.
About Kallista
Kallista was founded in 1979 by two European visionaries, Anthony Pontin and Norman Bell, who had the idea to break the white and chrome convention by offering plumbing products of superior design, style, and functionality. Acquired by Kohler Co. in the late 1980s, its luxury portfolio of faucets, fittings, tubs, and sinks flourished. Today, the award-winning designs are crafted in collaboration with independent artists and luxury brands such as Mick De Guilio, RAMSA, Workshop/APD, Laura Kirar, and more.
With showrooms across the US, Kallista reinterprets beauty by combining compelling details with form and function and utilizing cutting-edge technology such as 3D printing and engineering advances. For more information visit kallista.com.
# # #
Media Contact:
Marisa Jones Issa
Hello PR Group for Kallista
+1 (323) 989-2925 Mobile