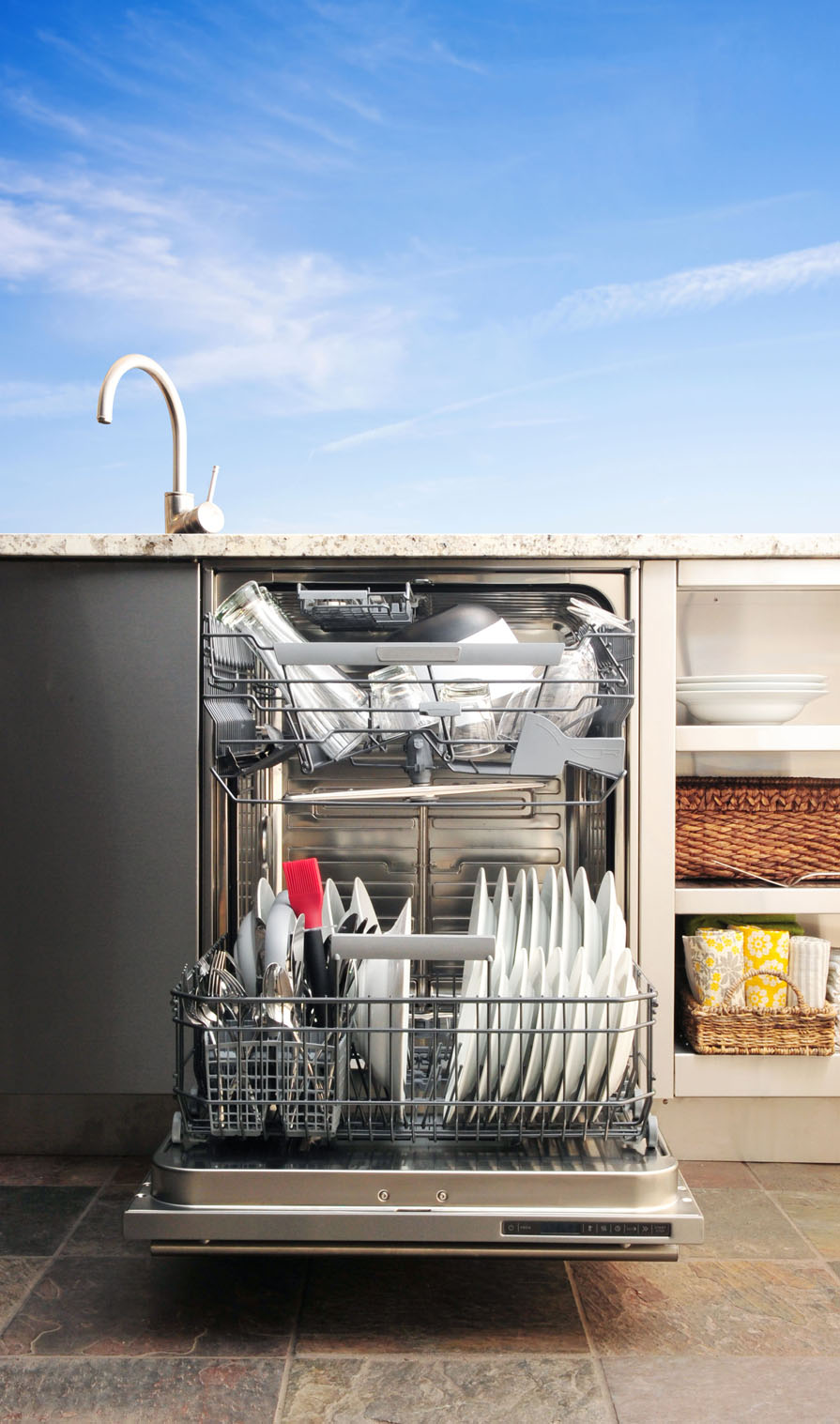 Remember when you had your last cookout and afterwards you and all of your guests carried the plates, pots and pans indoors to be put in the dishwasher? Those days are a thing of the past. Kalamazoo Outdoor Gourmet™, the leading manufacturer of high-end outdoor kitchen equipment, makes doing barbecue dishes easy and faster with an outdoor dishwasher specifically made to work outside. Able to withstand the harshness of the elements, it features a unique wash system designed to clean dishes that have been sitting outdoors or pots and pans that have been over the fire of a grill.
Powerful. The outdoor dishwasher's wash system has highly-focused spray zones that ensure the whole load gets totally clean and eliminates the need for pre-rinsing dishes. Specially-designed spray nozzles maximize the use of minimal amounts of water to target distinct areas within the dishwasher, focusing increased spraying power on hard-to clean items such as cutlery and pots and pans.
Efficient. Green, clean and smart, the outdoor dishwasher features technology that doesn't waste water. It uses as little as 3.8 gallons in a wash program, ensuring the optimum water level is used for each load. Sensors detect when the quantity of water matches the selected wash program, automatically adjusting water levels even if a flipped-over bowl fills with and reduces some of the available wash water.
Flexible. The outdoor dishwasher was designed with an extra large tub to accommodate the special demands that come from cooking and serving meals outdoors. An adjustable-height dual rack system offers maximum flexibility and can be moved up and down to handle some of the biggest pots and serving platters. Capable of holding 12 place settings at once, the outdoor dishwasher features adjustable tines for more loading options and offers protection for delicate items. The top rack has two adjustable stemware shelves and up to five rows of glassware storage.
At $3,995, the outdoor dishwasher is available through the network of dealers that carry Kalamazoo Outdoor Gourmet equipment, certified design professionals or directly at www.kalamazoogourmet.com.
"Kalamazoo Outdoor Gourmet has always been the innovation leader in outdoor kitchen equipment, bringing to market a number of firsts that change the way people cook and entertain in the outdoors," said Pantelis A. "Pete" Georgiadis, chairman and president of Kalamazoo Outdoor Gourmet. "Now, outdoor cooks can have complete independence from their indoor kitchens."
EDITOR'S NOTE: To learn more about the outdoor dishwasher, request high resolution photographs or an interview with Russ Faulk about outdoor kitchen trends, please contact Chris Mordi at 312.423.8714 – ofc, 815.701.2823 – cell, or cmordi@kalamazoogourmet.com.