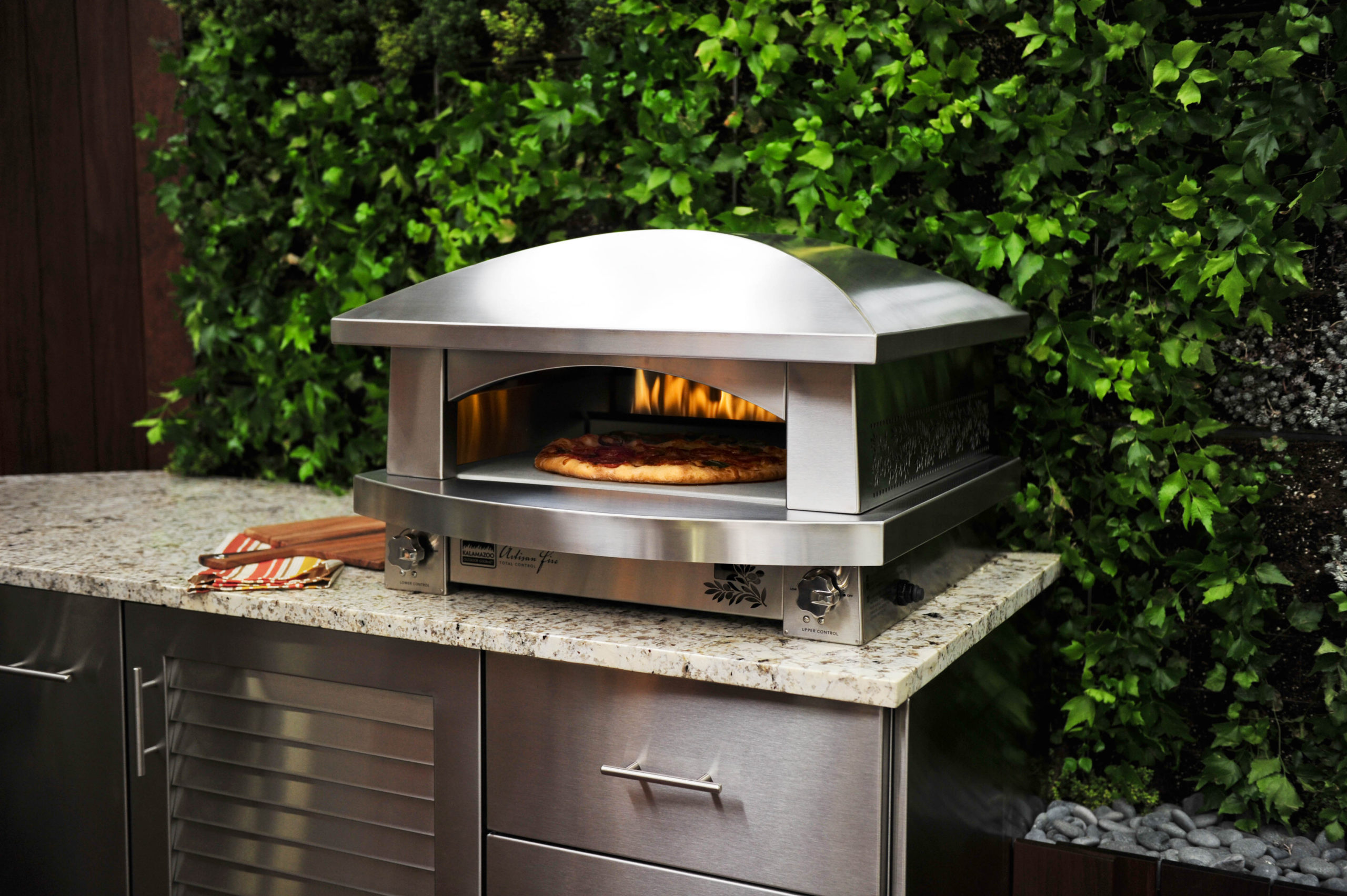 Artisan Fire Pizza Oven™ by Kalamazoo Outdoor Gourmet™ gives outdoor chefs new cooking options beyond burgers and ribs on the grill
You've heard the stories of people tinkering with the thermostats of their ovens to make them burn hotter. They do this in pursuit of the perfect pizza cooking temperature: 800+ degrees. The Artisan Fire Pizza Oven™, the first dual-burner countertop outdoor pizza oven, gives homeowners the power and heat of traditional wood-fired pizza ovens in a small, stainless steel package. Heating to more than 800 degrees and able to cook a Neapolitan-style pizza in as little as three minutes, it brings the power of a pizzeria oven to a home's outdoor countertop.
The Artisan Fire Pizza Oven comes up to baking temperature in as little as 20 minutes, making pizza night a more spontaneous occasion. Once the oven is fully heated – 800+ degrees in less than an hour – Neapolitan-style pizzas cook in as little as three minutes. The oven's open front gives cooks the ability to view the flames dancing at the back of the oven and watch the pizza as it bakes so it can be taken out at just the right moment.
Its custom-made and independently-controlled burners give outdoor cooks the ability to tailor the oven's heat and bake any style of pizza, calzones and artisanal breads. One burner warms the bottom baking stone, cooking the crust, while the second browns pizza toppings by heating the oven's interior and ceiling stone.
The Artisan Fire Pizza Oven's compact size leaves a small footprint on a countertop, making it an ideal piece for a new outdoor kitchen. Its ability to connect to standard 20-pound liquid propane gas bottles or natural gas lines makes it easy to add to preexisting outdoor kitchens, patios or balconies.
"Homemade pizza is one of the strongest trends we have seen in quite a while and pizza ovens are part of it. Designers are including pizza ovens as a must-have item for outdoor kitchens and patios," said Pantelis A. "Pete" Georgiadis, chairman of Kalamazoo Outdoor Gourmet. "It is great for time spent cooking with the family without heating up the kitchen."