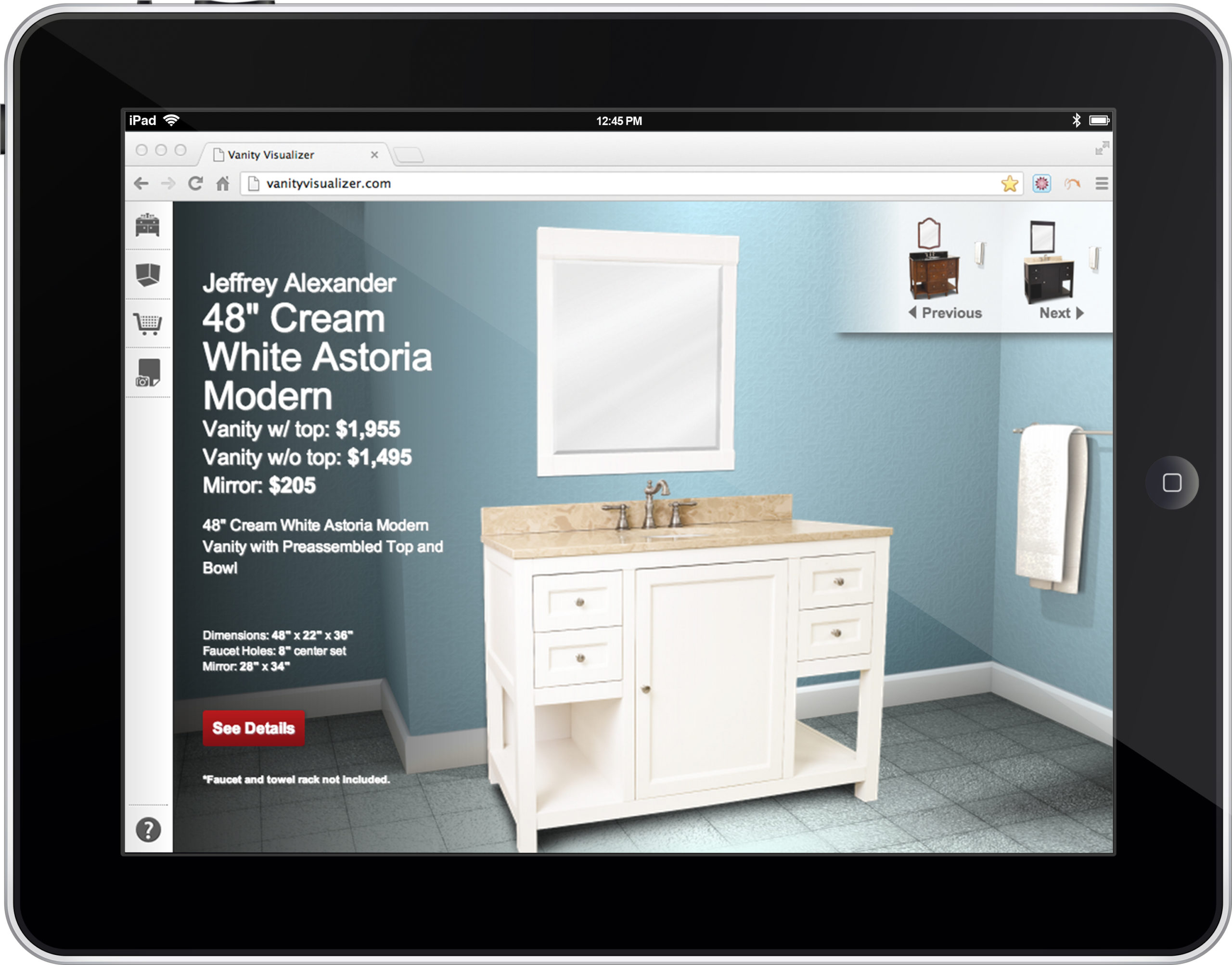 Creative tool gives user pre-installation ideas and takes guesswork out of picking bathroom colors, materials and vanity styles 
Hardware Resources, a leading manufacturer of decorative and functional kitchen and bath cabinet elements, launches the Vanity Visualizer Tool giving designers, dealers and homeowners a creative approach to matching and coordinating surface colors and materials with the wide range of bathroom vanity styles from the Jeffrey Alexander and Elements collections.
With a few touches, the user creates a customized bath space, selecting both the color and material for the walls and floors. They then swap out different vanity styles and sizes until the room is uniquely theirs. Completed rooms can be saved as PDF files to share with others – including dimensions and pricing information. The Visualizer will even tell consumers where they can purchase their selected options. The online tool works on iPads, Android tablets, smart phones and all computers with Internet access via https://www.vanityvisualizer.com.
"Buying a new bath vanity is an investment and with so many options, can be a daunting experience," states David Tyler, VP of Marketing for Hardware Resources. "The new Vanity Visualizer is a visionary and creative step in enhancing the buying experience, given the ability to instantly create personalized interior bathroom designs. With so many stylish bath vanities in our collections, the Vanity Visualizer is a specifier's dream come true, helping customers to immediately see how their new bathroom will look like whether in a showroom or client's home space. Dealers frequently use iPads or tablet solutions to show elements that are not on the showroom floor. In this scenario – they can demonstrate not only what's available, but also what it will look like in the customer's home."
Launch date for the tool is March 8, 2013 on https://www.vanityvisualizer.com.