FOR IMMEDIATE RELEASE
Exhibitor Spotlight – Health & Wellness
The kitchen and bath have increasingly become the home's go-to rooms for health & wellness. Appliances, materials, faucets and more all work together to help bring a sense of serenity, ease, and cleanliness into our otherwise chaotic lives.
Here is a sample of what to see at KBIS Virtual .
DreamLine – Crest Sliding Shower Door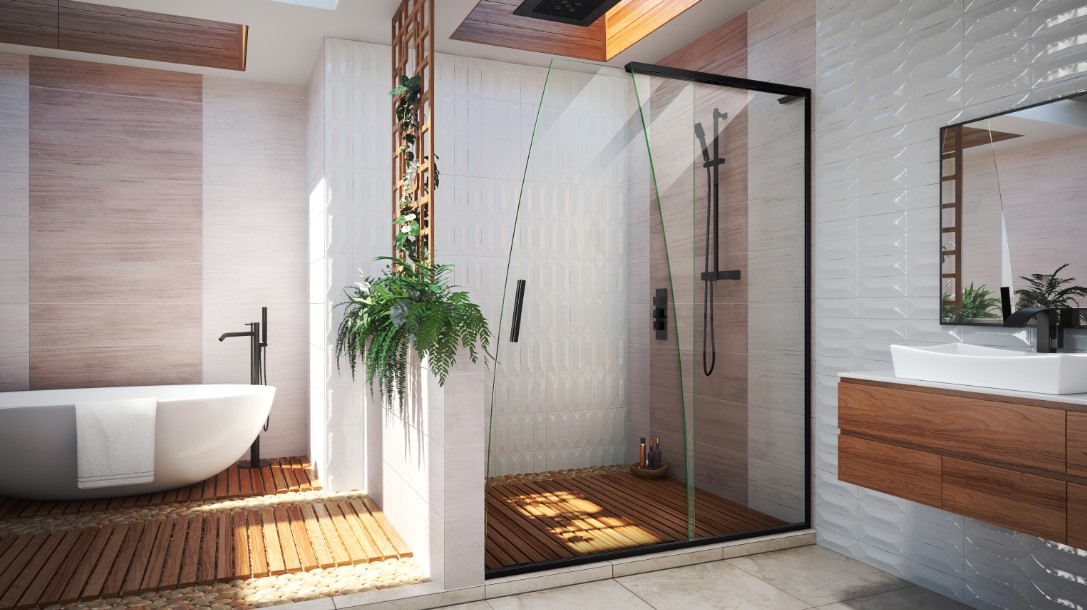 DreamLine was pleased to introduce this shower door in 2020 – simple and stunning, the Crest sliding shower door with iconic cascading curved glass defines livable luxury. Turn your bathroom into a relaxing oasis where you can escape from daily stress and truly pamper yourself through intentional design that engages all five senses. Aesthetically, a clean and uncluttered space will feel more soothing. Using wireless smart speakers or a built-in sound system to play soothing music and incorporating aromatherapy with essential oils or shower bombs will have you feeling like you just left a 5-star desert spa. Of course, no luxury spa bathroom is complete without a seamless glass shower door or a walk-in shower screen to create an airy, spacious feel. With a few simple updates – and a luxurious new DreamLine Crest sliding shower door – your next escape can be as close as your very own bathroom
Caesarstone – Whitelight Collection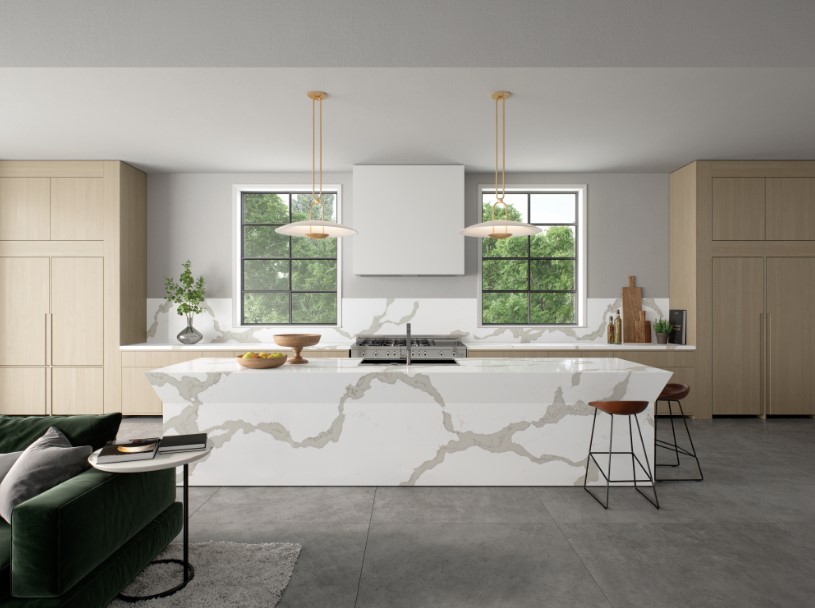 Now is the perfect time to bring the earth into the home, wrapped in the purity of white. At KBIS, Caesarstone will introduce the Whitelight Collection offering the most current compositions of lighter neutral colors and minimalism, giving a strong sense of wellness and serenity. Crisp pearly lusters and soft sandy hues connect the home from the inside with the earthy warmth of the world outside. This lightness creates a new landscape of opulence, refocusing us on human-centered spaces that echo sophistication alongside cleanliness. Whitelight reflects this exploration, with designs that look to the horizon of tomorrow. Caesarstone is Health Product Declaration® (HPD) certified; the surfaces are mold and mildew resistant adding additional health benefits to the home.
SKS – Built-In Undercover Drawer Refrigerator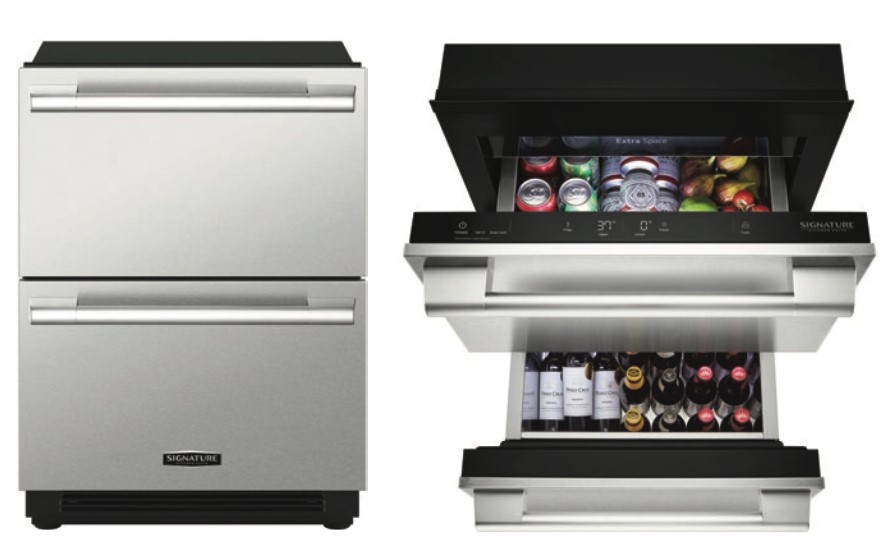 Luxury appliance brand Signature Kitchen Suite has earned the reputation for bringing groundbreaking innovations to market, and this first-of-its-kind 24-inch built-in undercounter convertible dual drawer refrigerator is no exception. Homeowners will enjoy unmatched flexibility with dual convertible drawers that operate independently of one other.  Users can select from six temperature zones depending on their ever-changing needs including Pantry, Fridge, Bar, Seafood, Meat and even a setting to convert each drawer into a freezer. Designed with precise preservation at its core, the metal interior minimizes temperature fluctuations to keep food fresher, longer. Created for today's Technicurean™ home chefs, this ENERGY STAR® certified refrigerator is Wi-Fi enabled with ThinQ® technology for remote temperature control and monitoring via iOS and Android devices. Complete with digital controls, white LED display, hidden LED interior lighting and with panel-ready or stainless steel exterior options, it provides designers with a high performance product that complements any high-end kitchen environment.
House of Rohl – Riobel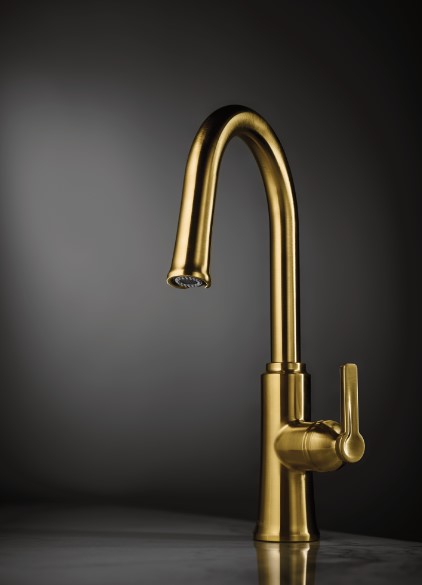 Riobel is proud to introduce touchless technology to its Azure and Trattoria Kitchen Faucets. With touchless technology, there is no longer a need to compromise design for functionality. Touchless activation minimizes cross-contamination by turning water on and off with the motion of your hand, improving the overall wellness of the kitchen. In addition, the peripheral position of the sensor minimizes false starts and optimizes water usage. Available in a variety of finishes, the Azure and Trattoria touchless lines balance aesthetics and practicality to fit every design style, in addition to promoting health & wellness.
KBIS Virtual is February 9-12, 2021. Click here for media registration. Visit the KBIS Pressroom for the latest show and exhibitor news. For all media inquiries regarding KBIS, contact kbis@whitegood.com.
About the National Kitchen & Bath Association and the Kitchen & Bath Industry Show
The National Kitchen & Bath Association (NKBA) is the not-for-profit trade association that owns the Kitchen & Bath Industry Show® (KBIS), as part of Design and Construction Week ® (DCW). With nearly 50,000 members in all segments of the kitchen and bath design and remodeling industry, the NKBA has educated and led the industry since the association's founding in 1963. The NKBA envisions a world where everyone enjoys safe, beautiful and functional kitchen and bath spaces. The mission of the NKBA is to inspire, lead and empower the kitchen and bath industry through the creations of certifications, specialty badges, marketplaces and networks. For more information, visit www.nkba.org or call 1-800-THE-NKBA (843-6522).
KBIS® and NKBA® are registered trademarks of the National Kitchen & Bath Association.
##
Editor Notes:
Click here to download high-res images of products mentioned
KBIS Media Contacts:
Lexi Miller
White Good
lmiller@whitegood.com
Julie McCrary
White Good
jmccrary@whitegood.com