From fresh new colors, sculptural design inspiration and peace of mind water alert systems, the world of decorative plumbing and hardware continues to raise the bar each year at the Kitchen & Bath Industry Show (KBIS).
Here is a sample of what to see at KBIS Virtual in February 2021.
Elkay – The Quartz Luxe® Sink in Mint Crème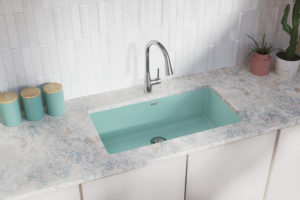 Elkay Quartz Luxe sinks are designed for superior strength, combining function and fashion and standing up to tough tasks while maintaining beauty. The material is heat proof up to 535°F and stain and smudge resistant, giving the sinks the ability to stand up to everyday wear.
Constructed through a proprietary manufacturing process that combines natural quartz with high performance, these sinks are as strong as they are stylish. The nonporous quartz material is also credited to preventing the spread of bacteria. Compatible with Elkay's Perfect Drain, which eliminates the gap around the drain for a cleaner sink – no gap means no grime.
Elkay has the largest selection of quartz colors on the market, recently adding the newest color addition – Mint Crème (launched in summer 2020). The fresh mint green has delectable creamy undertones that bring serenity to the home, while capturing the coolness of nature.
Moen – Flo by Moen – Smart Home Water Security System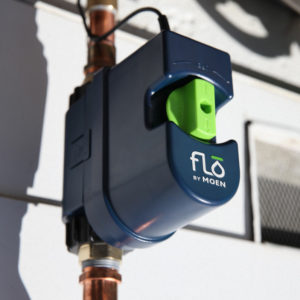 The Flo by Moen Smart Water Security System offers peace of mind and puts users in control over their water supply system to help detect and prevent leaks, as well as monitor water usage, all from the convenience of their smartphone. It's comprised of the Smart Water Shutoff, which connects to the home's main water line and calculates pressure, flow rate and temperature within the home's water supply system to help detect water leaks and other vulnerabilities. If an abnormality is detected, the device will notify the homeowner – who can turn off the water from the app – or the system can be set to automatically shut off water to prevent catastrophic damage. It also includes the Smart Water Detectors, which are standalone sensors that can be placed anywhere in a house to alert users if, and when, the sensor detects moisture to help prevent water damage and loss.
Kohler – Ironridge Farmhouse Kitchen Sink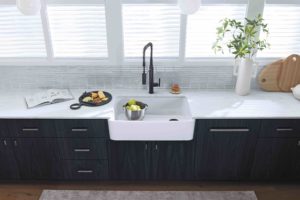 With clean, angular lines, Kohler Ironridge complements an array of aesthetics, from farmhouse-traditional to contemporary. Its patented self-trimming design makes the Ironridge an easy update — created to fit a standard sink base and overlap the cabinet face for a gorgeous look. The Ironridge comes equipped with a nine-inch deep basin, providing ample space for soaking and scrubbing large pots and pans without compromising base cabinetry storage below. The offset drain with a sloped bottom allows for easy drainage and clean up. Crafted from KOHLER enameled cast iron in Kohler, Wis., the Ironridge boasts unrivaled durability designed to last for generations. Its industry-leading resistance to chips, cracks, burns, stains and scratches — all backed by a limited lifetime warranty — ensuring an unwavering beauty that never fades.
Top Knobs – Regents Park Collection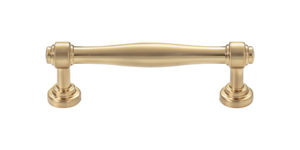 Top Knobs, the leading manufacturer of decorative kitchen and bath hardware, is proud to introduce the Regents Park collection to its product line in 2021. Top Knobs will unveil the Regents Park collection at the Kitchen & Bath Industry Show (KBIS) in 2021.
Inspired by the royal grounds of London's Regents Park, this new collection bestows interior designers and homeowners with the innate poise and rich personality of European design. Featuring five series of intricately designed pieces, Regents Park welcomes the romantic ambiance of this noble British estate into the home. The five series of knobs, pulls and appliance pulls include: Clarence, Kingsmill, Cumberland, Ulster and Ormonde.
TOTO – GC Faucet Series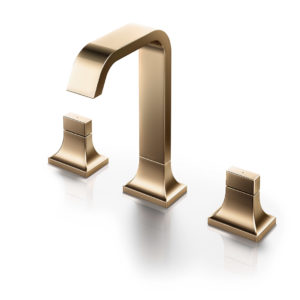 Inspired by the rows of columns standing at the entrance of an ancient Japanese temple, the GC Faucet Series epitomizes timeless sophistication and contemporary elegance. This elegant faucet family makes a striking design statement in residential, hospitality, and commercial bath environments.

Featuring a dramatic high arc ribbon spout, the GC Faucet's widespread design is a showpiece. Offering premium materials and high‐quality construction, the new GC faucet family ensures years of worry-free performance.

TOTO's COMFORT GLIDE technology ensures precise flow control, ease of use, and exceeds the industry standard for longevity and superior performance throughout the products' lifetime. The GC Faucet Series is WaterSense labelled and flows at 1.2 gpm.
The GC faucet family is available in single handle, widespread, semi-vessel, vessel and wall-mount styles for the lavatory. For the bathtub, it is available as a freestanding tub filler with handshower or a wide-spread Roman tub filler with an optional handshower.
Infinity Drain – Next Day Custom Linear Drains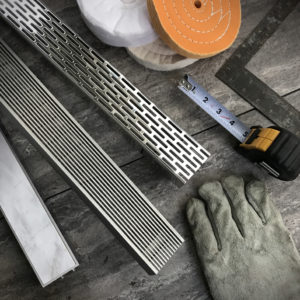 Infinity Drain, the manufacturer at the forefront of architectural and decorative drains, introduces Next Day Custom Linear Drains. Infinity Drain's Next Day Custom program is the first of its kind to makeperfect linear drain wall-to-wall installation a reality – without the wait. Infinity Drain has streamlined its custom department to provide next day turnaround. Now, the moment the installer realizes a custom design is needed, they can put in an order and have a custom solution next day to continue the project with perfect alignment of wall and drain. Next Day Custom Linear Drains are available in lengths up to 72" in two finishes, three grate styles and for all installation waterproofing methods.
KBIS Virtual is February 9-12, 2021. Click here for media registration. Visit the KBIS Pressroom for the latest show and exhibitor news. For all media inquiries regarding KBIS, contact kbis@whitegood.com.
About the National Kitchen & Bath Association and the Kitchen & Bath Industry Show
The National Kitchen & Bath Association (NKBA) is the not-for-profit trade association that owns the Kitchen & Bath Industry Show® (KBIS), as part of Design and Construction Week ® (DCW). With nearly 50,000 members in all segments of the kitchen and bath design and remodeling industry, the NKBA has educated and led the industry since the association's founding in 1963. The NKBA envisions a world where everyone enjoys safe, beautiful and functional kitchen and bath spaces. The mission of the NKBA is to inspire, lead and empower the kitchen and bath industry through the creations of certifications, specialty badges, marketplaces and networks. For more information, visit www.nkba.org or call 1-800-THE-NKBA (843-6522).
KBIS® and NKBA® are registered trademarks of the National Kitchen & Bath Association.
##
Media Contacts:
Julie McCrary
White Good
jmccrary@whitegood.com
Lexi Miller
White Good
lmiller@whitegood.com