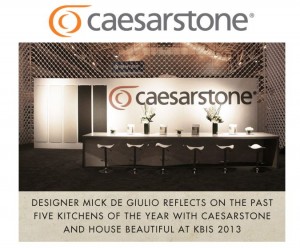 Acclaimed kitchen designer Mick De Giulio, a longtime supporter of Caesarstone, attended KBIS
2013 in New Orleans where he gave a presentation "Kitchen of the Year: A Five Year Retrospective" on April 19, presented by House Beautiful and Caesarstone.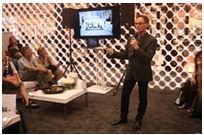 After being introduced by Caesarstone US CEO, Sagi Cohen, Sean Sullivan, Associate Publisher of House Beautiful, spoke about the rapid growth and impact that Kitchen of the Year has seen since its inception in 2008. He discussed the different techniques past designers such as Jeff Lewis and Tyler Florence have used before handing the microphone over to De Giulio.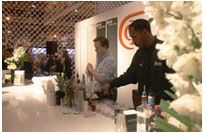 De Giulio shared his inspirations for his design of the 2012 House Beautiful Kitchen of the Year at Rockefeller Center, and looked back at the exclusive partnership between Caesarstone and Kitchen of the Year shows. Caesarstone has been a partner since the first Kitchen of the Year five years ago.
"We had a joke when we were designing the kitchen that if we couldn't find a product we could just make it out of Caesarstone" De Giulio said.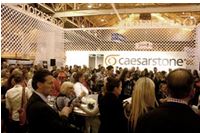 Additionally, guests enjoyed Thermador's state of the art cappuccino bar, Cajun treats from Chef
 Aaron Burgau from New Orleans' renowned restaurant Patois, fresh cocktails from Los Angeles based mixologist Aidan Demarest and a panel discussion with bloggers Abigail Stone from Apartment Therapy and Dave Hime from Japanese Trash.
Guests were able to sign up for Caesarstone's new microsite The Interior Collective (www.interiorcollective.com) to be entered to receive special prizes such as SoftScrub product kits and one grand prize iPad.
Please email Kendal@ballantinespr.com for additional high-res images.
About Caesarstone: 
Caesarstone is a leading developer and manufacturer of premium quality quartz surfaces. Established in 1987, the company pioneered the quartz surfaces and continues to manufacture high-quality surfaces utilizing advanced technologies and proprietary knowhow.  Caesarstone surfaces consist of up to 93% quartz, retain the cool tactile qualities of nature's strong stones while offering freedom of design with enormous application possibilities including kitchen countertops, bathroom vanities, flooring, wall paneling, furniture and more. Caesarstone offers a product that is highly functional, design forward and beautiful, all at the same time.
With four diverse collections – Classico™, Supremo™, Motivo™ and Concetto™, there is immense room for choice. The unique and rich variety of colors, patterns and textures gives each customer the ability to find their 'ultimate surface' and create their own unique space. Caesarstone's extensive designs are constantly evolving and developing to meet the latest world trends and the highest level of international quality standards.
Caesarstone is a public company (Nasdaq: CSTE) as of March 2012. The company's U.S. headquarters are located in Southern California with distribution centers across the country to serve customers nationwide.