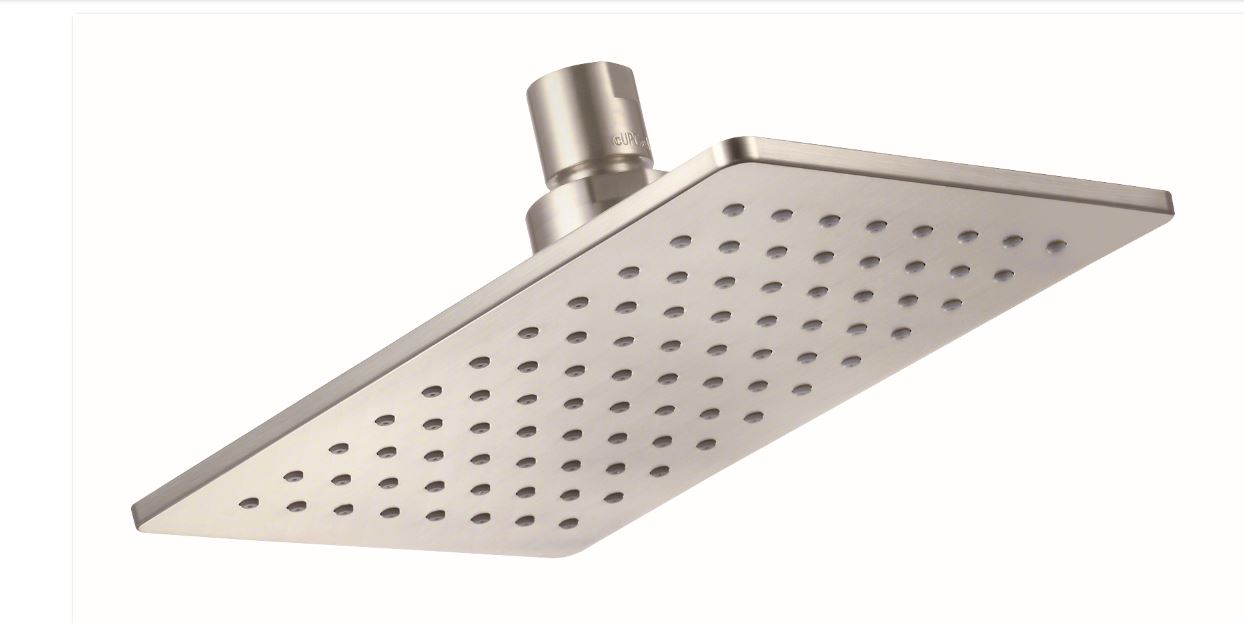 Danze, Inc., known throughout the plumbing products industry for its array of shower technology and design, has added the Mono Chic™ 5 x 8" showerhead to its growing collection of shower products.
This crisp rectangular, single function showerhead is certified by the EPA's WaterSense® program, promising a maximum 2.0 gallons per minute flow rate at 80 psi. The reduced flow rate ensures a minimum 20% water savings compared to standard showerheads.
In order to exceed the stringent showerhead guidelines of WaterSense, Danze incorporated its proprietary Air Injection™ technology into this specific Mono Chic product (as well as many other shower offerings).  This technology, which is found within the ball joint of the showerhead, infuses air into the water stream.
The air injection design, as well as the use of Neoperl high performance flow controllers, offers several benefits to the end user:

Improves the shower's spray intensity by increasing the water velocity

Softens the feel of the shower spray by trapping air bubbles in the water stream (no stinging!)

Maintains water temperature compared to "misting" showerheads, which tend to lose their warmth

Operates more quietly than others due to anti-vibration engineering and the location of the air in-take
The new showerhead offers a downpour spray effect and has more than 80 easy-to-clean jets. It's available in both Chrome and Brushed Nickel finishes.
About Danze
Over the past decade, Danze has been creating fun and refreshing experiences each and every day. With dozens of faucet collections, fixtures, showerheads and accessories, available in a range of durable finishes, we'll continue to delight and excite on all levels of design, function, quality and experience. It's always been our mission to create well-designed products that help people feel better about their homes, their lives and themselves.