Advertising & Sponsorships
CURATE YOUR PERFECT KBIS VIRTUAL
KBIS Virtual, the new virtual companion to our in-person show, is designed to deliver qualified leads, promote product launches and initiate meaningful engagement through face-to-face meetings, networking sessions and more. This is your opportunity to showcase products and services kitchen & bath professionals need to grow and thrive in a competitive market. Below is just an overview of what we can offer. Connect with your account representative to learn more.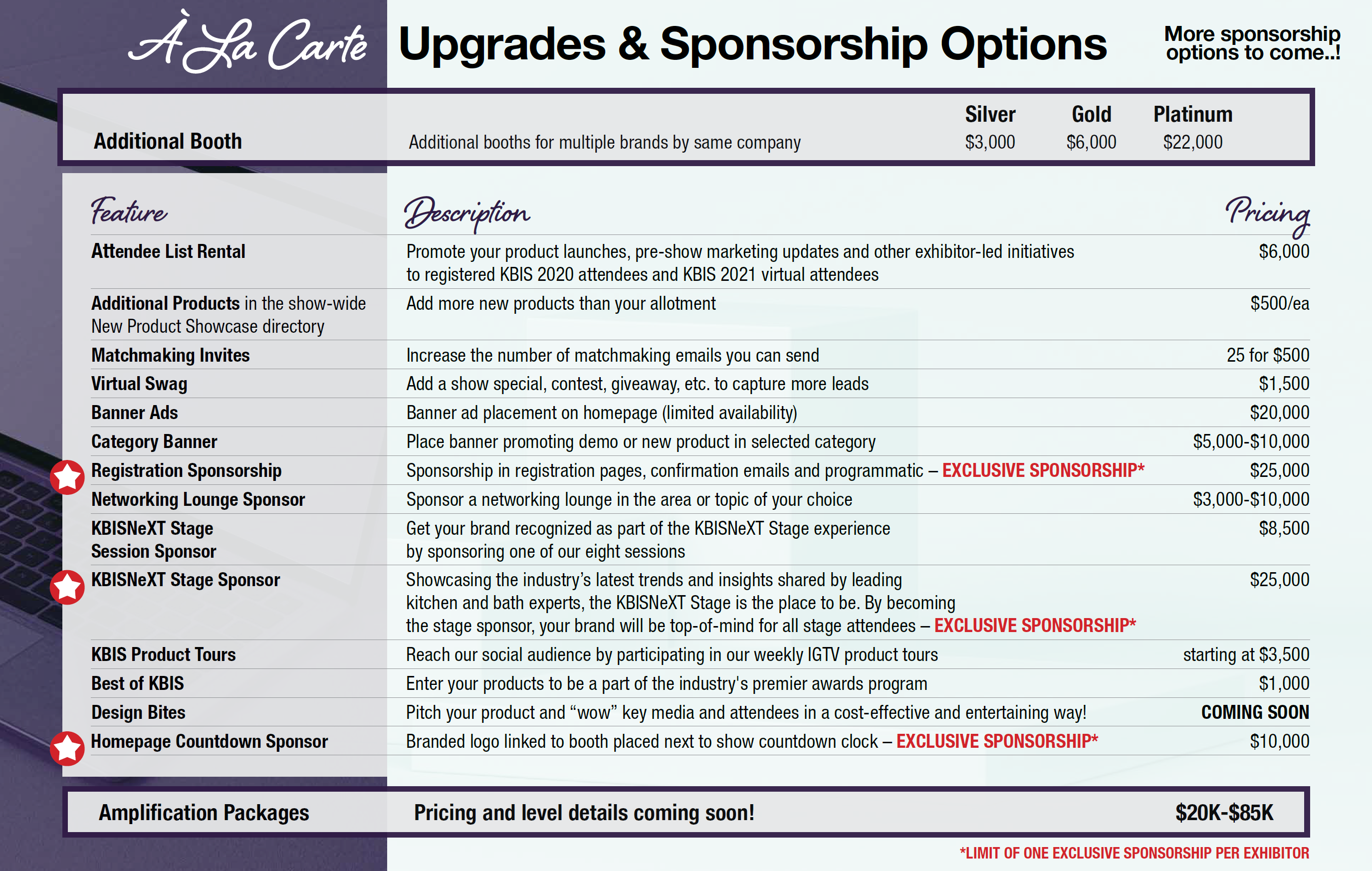 THE PAVILION EXPERIENCE
Pavilions are a segment of KBIS Virtual that promotes 5-10 exhibitors who share a common industry focus. Exhibitors are listed and profiled inside the pavilion with links back to their virtual booth. They have opportunities to lead or join a "stage" session and can host social sessions inside one of several networking lounges. Pavilions include NKBA Global Connect, ICFF High Design, Connected Living, and Healthy Living. Learn more below or connect with your account executive.
HOW CAN YOU REACH BUYERS NOW?
THE POWER OF SOCIAL SHARING
Re-think your social approach with our KBIS Virtual Product Discovery Packages. Our new videofirst format serves to connect your products with the various KBIS social media audiences. Our three packages are designed to use KBIS communities as an opportunity to share your new products and initiatives leading up to KBIS Virtual and beyond.
Reach the kitchen and bath market through our bi-weekly newsletter to the KBIS audience of over 40,000 subscribers. The send list is comprised of KBIS attendees, NKBA members and KBB subscribers – your target audience. Each newsletter highlights show and exhibitor news, NKBA hot topics and industry-related happenings. This is your one-stop shop to reach the kitchen & bath industry, with open rates averaging over 20%.
Newsletter options include:
Product/Brand Spotlight – An exclusive spot to announce product launches, latest news and promote your brand to our qualified list of kitchen & bath industry professionals. 
Category Spotlight – Feature your latest products and garner traction year round by being featured in our category spotlight covering categories such as hardware, technology, surfaces, plumbing and more.

Newsletter Ads – Grab our audience's attention with a 728 x 90 top, inline or bottom banner ad and drive traffic to your website. 
Kitchen & Bath Business Advertising
Did you know that KBIS exhibitors who advertise in Kitchen & Bath Business, the official publication of NKBA and KBIS, get 227% MORE LEADS than non-advertisers?
NKBA Sponsorships
Interested in a sponsorship with the National Kitchen & Bath Association? Benefit by aligning your brand with NKBA's exclusive industry offerings.
The Leading Kitchen And Bath Design Event!