Attendees at the 2016 Kitchen and Bath Industry Show (KBIS) on January 19–21 in Las Vegas will experience the unveiling of the latest addition to the Coastal Shower Doors Gridscape collection, the GS2 Soft‐Close. Behind the scenes, however, the GS2 Soft‐Close has already been attracting attention. On January 18, 2016, Better Homes & Gardens Special Interest Media announced the design had been awarded a 2016 "30 Most Innovative Products Award" and will be featured in the Spring 2016 issue of Beautiful Kitchens & Baths.
The GS2 Soft‐Close features fixed panels and soft‐close functionality. Signature elements of the patent‑pending shower door series include distinct, eye‐catching finishes in both polished chrome and original black anodized aluminum.
Among the most popular looks is the smoke grey glass, contrasting with the chrome metal finish to provide an industrial‐modern vibe that can be combined with endless décor tastes and design styles.
The new design is installable in both surface and flush‐mounted applications and does not require a bottom track or a wall jamb at the strike of the door. It features a multi‐dimensional, oversized, 48‐inch L‐shaped handle, adding an extra dimension to the striking design.
The panes that make up the true‐divided light enclosure can be individually customized by size and glass type to match any need. A selection of clear, satin etched or smoke grey tempered glass options come standard. Custom options are available with a wide variety of laminated, textured and patterned tempered glass.
"We have been very pleased with the reaction to and interest in each item in the Gridscape collection and are sure the new configuration will also be a popular choice," said Patrick Cobb, national accounts for Coastal Shower Doors. "The fixed panel, paired with a sliding door is going to be perfect for spaces that may not accommodate a swinging door due to an obstruction. All of the Gridscape Series shower door options provide a bold, modern flair to your bath and, like high‐fashion furniture, stand out as a focal point of your space."
American‐made Coastal Shower Doors was founded in 1972 with the mission to create the industry's finest bath and shower enclosures. For more information about Coastal Shower Doors and the company's array of products, visit coastalshowerdoors.com.
Contact Information:
Monique Moffit
336-­501-­8445
moniquem@sfwresults.com
Fixed Panel Sliding Barn Door PDF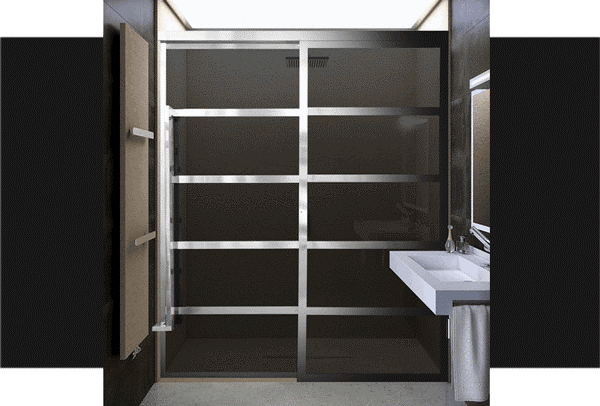 #gallery-8 {
margin: auto;
}
#gallery-8 .gallery-item {
float: left;
margin-top: 10px;
text-align: center;
width: 33%;
}
#gallery-8 img {
border: 2px solid #cfcfcf;
}
#gallery-8 .gallery-caption {
margin-left: 0;
}
/* see gallery_shortcode() in wp-includes/media.php */